With winter weather currently pounding much of the country, and snow predicted to fall in many places where snow isn't supposed to fall, we're betting that you could use something warm to drink.
Hot cocoa is a classic choice, and for good reason—it's soothing, delicious and a perfect vehicle for storing an ounce or two of liquor.
But store-bought chocolate syrups and powders leave a lot to be desired. So, when in doubt, turn to the experts.
Michelin-starred chef Thomas Keller recently debuted K+M Hot Chocolate, which is made in collaboration with Italian olive oil producer Armando Manni. The pair introduced a line of olive oil-infused, antioxidant-rich chocolate bars a few years back, but those are much harder to drink. Hence: this stuff.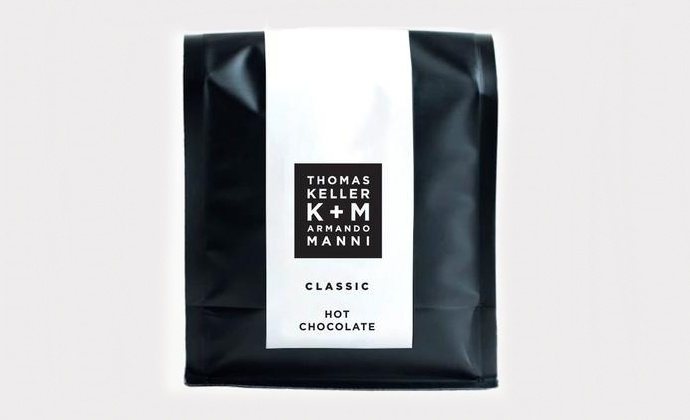 K+M Hot Chocolate is made in Napa from the same cocoa beans used in their Extravirgin bars. Those bars merge top-quality chocolate with a small amount of Manni's organic extra-virgin olive oil, which brings additional antioxidants and a silky texture to the bars.
The hot chocolate has an intense chocolate character, balanced by rich creaminess and light nuttiness. There's also a Winter Spice version that's laced with allspice, cinnamon, ginger and black pepper. Choose one, or both, and you can wrap your hands around a mug of decadent hot chocolate while riding out the cold weather.
Of course, we'd be derelict in our duties if we didn't mention that the hot chocolate pairs swimmingly with spirits, particularly those sporting a flavor profile of vanilla, chocolate and baking spices. Think bourbon or aged rum. Because, while this Keller-approved cocoa is undeniably great, a little dash of booze helps to quash the monotony of another day indoors fielding Zoom calls. And when booze is inside an innocent-looking mug, no one's the wiser.
Your secret is safe with us.