We don't know about you, but after a hard day of work, we just can't wait to come home, turn on the TV and crack open a can of soft-serve ice cream.
Okay, that might take some getting used to.
But Coldsnap is a new countertop device that turns shelf-stable cans into soft-serve ice cream and other frozen treats, similar to how a Keurig or Nespresso machine uses pods to make coffee. It just debuted at CES and is set to launch later this year.
If all this seems like something you'd see on a late-night infomercial, well, it's hard to disagree. But it's also hard to not be at least a little interested in something promising on-demand ice cream (plus smoothies and milkshakes) at the touch of a button.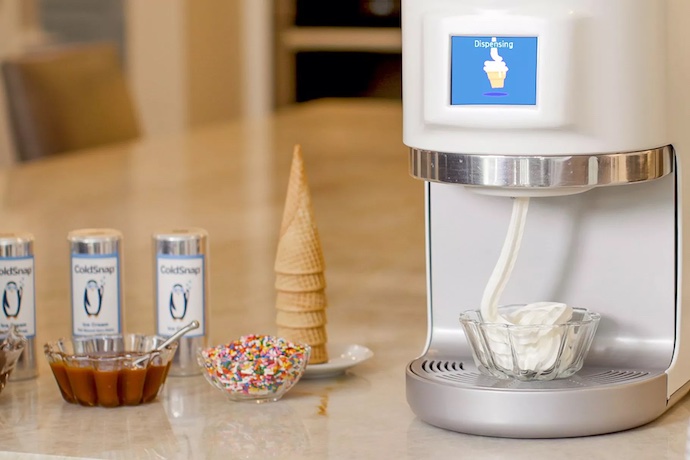 Once you slide one of those Red Bull-sized cans into the machine, the Coldsnap gets to work. It freezes the room-temperature mixture creating micro-sized ice crystals, adds air to achieve a soft texture, and then dispenses the now-frozen contents right into a bowl. Or a cone, if you're really going for it. All that takes about a minute.
But "trusted friend," you say, "aren't there plenty of at-home ice cream machines on the market, and don't many of them cost less than this thing?"
Yes, that is correct.
"So..."
Right.
But this does seem less messy than a typical ice cream machine. And the cans are recyclable. And the world is a strange place these days, where turning an aluminum can into froyo just doesn't seem that weird anymore.
If any of this is compelling you to drink, fear not: It also makes frozen cocktails.