Look at your left hand.
Now look at your right hand.
Now consider how those five-fingered marvels are nature's perfect devices for grasping all manner of things, from your phone to the steering wheel to temaki sushi, aka "hand rolls."
The latter can be found all over the country. But Water Grill's Orange County location is serving its new Bluefin Toro Tartare Hand Roll table-side, so diners can assemble it themselves. Choose the DIY option, and you'll get toro, green tea nori, warm sushi rice, quail egg and sweet soy sauce, plus the chance to show off your sushi skills.
Then again, if you have no sushi skills, you'll need to learn. For this, and for any other hand roll-related enterprises in your future. That's where Water Grill's Chef Okada comes in.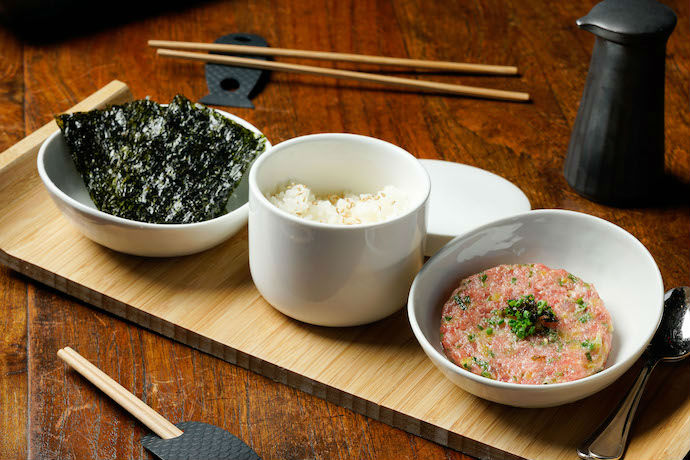 How to Construct the Perfect Hand Roll
1. Source the best product. If you do nothing else, don't neglect this tip. Okada likes to pick up bluefin toro from Asian grocery stores that have a fresh seafood section. He notes that pickled daikon, a key component to his rolls, can also be purchased there.
2. Work with cold toro. You'll have the best luck when the fish you're handling is as cold as possible. "At home, you may even want to put the fish in the freezer for an hour before cutting," says Okada, adding that the tuna should be cut into 1/8-inch pieces.
3. Serve with warm, seasoned sushi rice. This is a must. Okada says to use warm sushi rice that has been seasoned with sushi rice vinegar.
4. Construct the roll like so: Take a piece of nori in your hand. Spoon a small amount of sushi rice onto the nori, then top it with tuna tartare. Fold the nori over, similar to how you'd fashion a taco. And... eat.
If you'll be serving your hand rolls with something to drink (always smart), Beverage Director Kevin Felker has some tips of his own. For wine, stick to whites. A few of his favorites include dry and off-dry German rieslings, Alsatian riesling or pinot grigio, or Austrian grüner veltliner. If you're thinking beer, he likes moderately-hopped American-style IPAs and pale ales, amber lagers and Irish red ales.
Now, you've got everything you need for a successful venture into DIY hand rolls.