Hello. Welcome to September 23, 2019, otherwise known as the autumnal equinox.
There's not a lot to prepare for. Some leaves will change colors. Some others will fall. There will be a slight chill in the air.
Most importantly, however, is the fact that it's now socially acceptable to serve mulled wine at all your gatherings.
Even if that gathering is just you and a comfortable chair.
According to Andrew Holmes—the food and beverage director at First Hospitality, the group behind restaurants Brim House, The Heights, The Keep and 8UP—mulled wine's roots are based in Europe. The drink was originally made from second-press grape juice—basically, the stuff that vintners didn't feel comfortable bottling or selling. To make it more palatable (read: delicious), they'd load it up with mulling spices and heat it. Such enterprising actions kept people warm in the cold weather, while still allowing them to imbibe, which is really the most altruistic service one can perform.
"It's a perfect complement to sitting by a fire with cozy socks and a blanket," says Holmes. "Usually made with red wine, spices and varieties of fruits, there's an opportunity to get creative with the beverage and tailor it to individual taste buds." At his restaurants and bars, he likes to combine an Argentinian Malbec with Ace Pear Cider, regionally-sourced chai tea, fresh squeezed orange juice, honey and seasonal spices.
"This steaming hot beverage will warm you up and fill you with cheer for the holidays, or just on a Monday."
As sufferers of occasional Mondays ourselves, we appreciate such a conscientious attitude toward weekday drinking. If you'd like to mix up some mulled wine for yourself, consult the recipe below.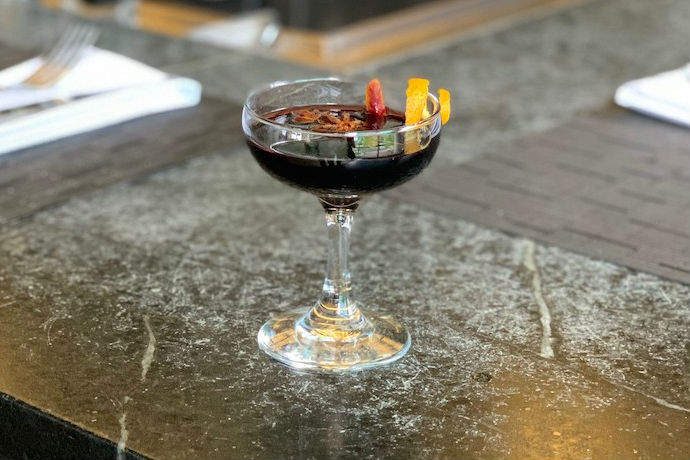 Mulled Wine
2 oz Malbec
2 oz Ace Pear Cider
0.5 oz seasonal spices syrup (wildflower honey, brown sugar, allspice, cloves, star anise, chai tea leaves)
Splash of fresh orange juice
Mix everything together in a pot and heat until warm. Pour into a coupe or your preferred glassware. Garnish with a cinnamon stick and orange zest.