Hop-heavy IPAs are banned for the summer.
Rosé feels slightly too... 2018.
And some days, a stiff pour of whiskey just isn't in the cards.
There's only one way to drink your way out of this predicament.
Meet Lo-Fi Aperitifs, a collection of low-ABV, wine-based aperitifs from Napa that you can easily sip all day long. After confining themselves to select stores and bars in Brooklyn and San Francisco, these easy-to-drink drinks are expanding into other markets and are also available online, ready to be shipped to thirsty people everywhere, yourself included.
These are all-natural aperitifs, made from wine and whole botanicals. There's a dry vermouth with ingredients like cherry, elderflower, anise and chamomile. And a sweet vermouth with vanilla bean, rhubarb, sherry and cocoa. And then there's the markedly herbal amaro made from roots and cinchona bark—yes, your all-time favorite bark.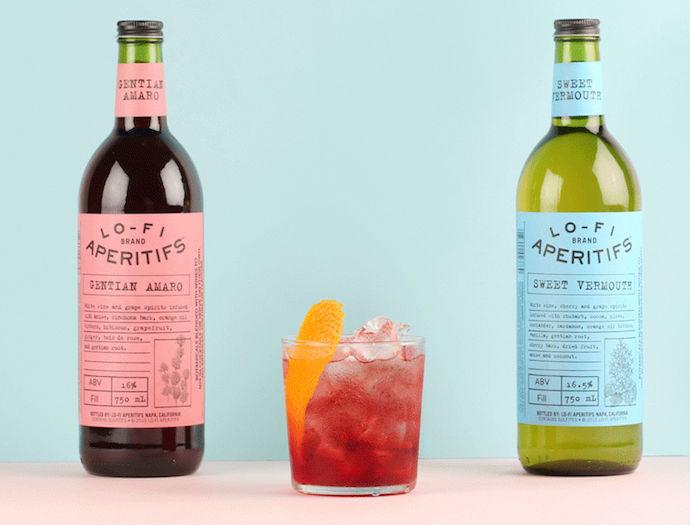 More importantly, unlike the typical 80-proof-or-higher gins and rums that might inhabit your usual summer beverages, the vermouths are just 33-proof and the amaro is a cool 40-proof. Which isn't to say you have to drink less alcohol this season. It's just that, now, you can drink alcohol over longer periods when the sun is being hostile. Cheers.

So, the next time you're hanging out by someone's pool or trying to even out your farmer's tan on a downtown rooftop, bring a couple bottles with you.
You'll begin by serving everyone an appetizer of dry vermouth on the rocks with a lemon twist. Then move on to some amaro spritzes. And, if you'd like to end the night with something stronger, you can always employ the vermouths in a Manhattan or an ice-cold Martini.
You can't go low-ABV all the time.