Ahead of last year's Kentucky Derby, we found you a $1,000 mint julep, made with Woodford Reserve Kentucky Bourbon and served in a limited-edition commemorative cup involving a gold-plated straw.
Frankly, we weren't sure we could find anything more extravagant.
But along came Rabbit Hole Distillery, an award-winning, Louisville-based bourbon-maker housed in a 50,000-square-foot facility, complete with a 65-foot-tall glass atrium and a fancy cocktail bar called the Overlook. They took it upon themselves to create the Looking Glass. It's a $1,100 bourbon drink concocted in a 19th-century syphon, poured over a specially branded ice cube and garnished with a hand-painted golf leaf. Folks can order it exclusively during Rabbit Hole's Kentucky Derby party this weekend (and by "folks," we mostly mean "people who hit their bets").
This bad boy—yeah, we're calling it that—was developed in partnership with Proprietors LLC, the hospitality group behind New York's esteemed Death & Co., which routinely lands in the top 10 on the World's 50 Best Bars list. The goal at the outset was straightforward: to create the country's most luxurious cocktail for the 145th running of the Kentucky Derby.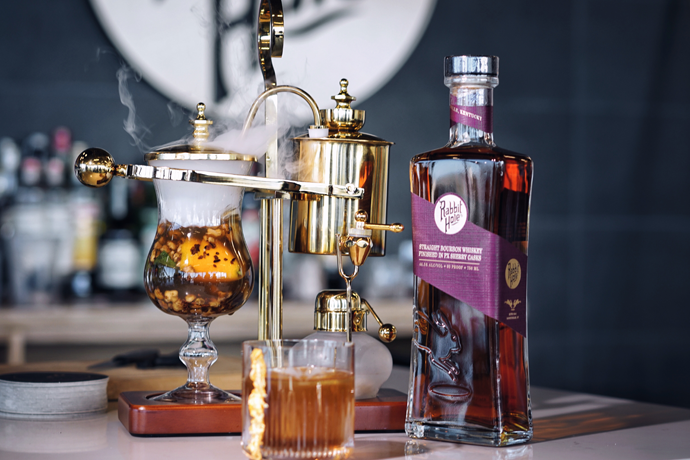 Rabbit Hole's own beverage director, Jordan Cahill, had been a champion of the 19th-century balancing syphon, a duel-chambered device traditionally used to brew coffee. Without getting too in the weeds, the basic idea behind this thing is that you're using heat (and, err, scientific principles) to steep dry ingredients and amplify flavors.
For the Looking Glass, complementary ingredients, like cocoa nibs, dried tart cherries, orange peel and toasted black walnuts, are placed in one vessel. The liquid is placed in another. In this case, the "liquid" is a mixture of Rabbit Hole's bourbon whiskey finished in PX sherry casks; D'aincourt Cognac Extra, an aged cognac made from vintage grapes; 21-year-old Bowmore 1989 Silver Seal, a rare Islay scotch; and a dash of Belgian chocolate bitters. It is a very good liquid. Very good, indeed.
To begin the process, dry ice is mixed with the dry ingredients. Then a flame is lit, and, as temperatures increase, the liquid is pulled (or "syphoned") into the dry ingredient's chamber. When the liquid comes in contact with the dry ice, a fog is formed, and a richly fragrant plume is released, as if the cocktail has been manifested in a cloud. When the temperature reduces, the liquid is drawn back into its original vessel, everything completely blended, all of its individual flavors intensified. At that point, it's poured into a glass with the Rabbit Hole-branded ice cube and garnished with a hand-painted gold leaf, whereby it's ready to drink.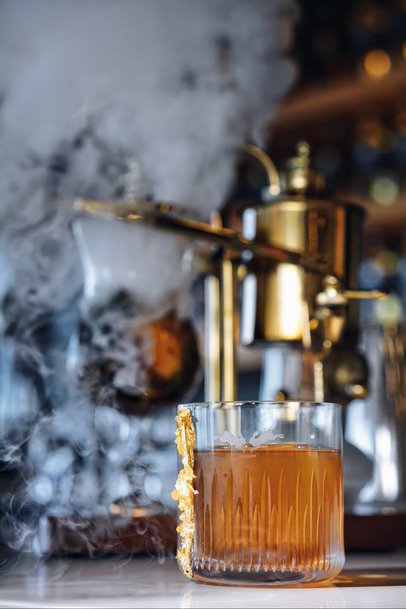 You'll want to savor this, of course. Because of the way it was made, you should be able to taste every single ingredient in the cocktail, those decadent notes of dark chocolate and raison and citrus and toasted nuts. If you can't, you can ask for your money back.
Just kidding. You definitely can't do that.