Yes, yes, we're sure you're well aware of CBD by now, even if you don't really know what the hell it does. You've seen it in coffee, on fancy tasting menus, even in candy on sale at your local bodega. Maybe you've tried it, and felt a gentle wave of calm wash over you; maybe you've tried it, and felt a gentle wave of whatever you were feeling before wash over you. Indeed, as a culture, we've kind of just generally decided to go ahead and anoint it as a modern-day wellness panacea, good for reducing anxiety, increasing concentration, helping you sleep and speeding up post-workout recovery. It does everything! It does nothing. One thing's for sure: it won't get you high.
But if we're going to trust anyone with putting CBD into things we put into our body, it's Mr. Willie Nelson. In the pantheon of Cool People Who Love Weed, he ranks right up there, somewhere just above Seth Rogen and somewhere just below Tommy Chong. And this week, he and his wife Annie launched a new line of CBD products, dubbed Willie's Remedy. The first offering is whole bean coffee.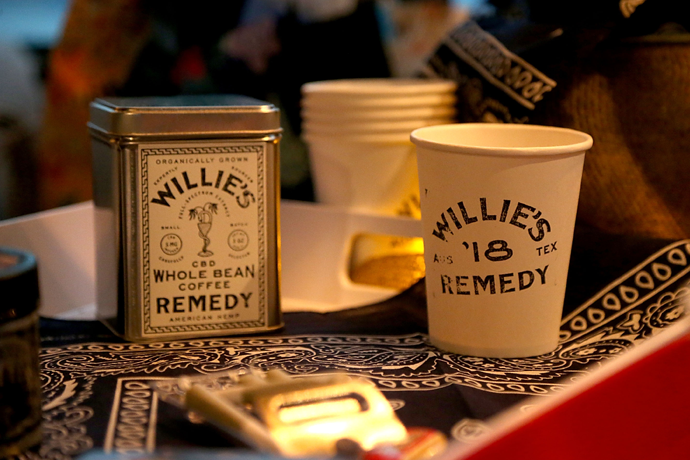 To be clear: this is different (but not so different) from Willie Nelson's spaced-out sister line of cannabis products, called Willie's Reserve, which do include THC—and therefore, do get you high. Here, he's maintaining his commitment to organic, American-grown hemp, but doing so in the pursuit of wellness. Which is only slightly less rock-and-roll.
The CBD itself comes from hemp oil, which itself comes from hemp grown in Colorado. As with Willie's Reserve, they've thoughtfully selected a handful of state-licensed cultivators for the task. They then infuse their coffee with it—a proprietary blend of three been varietals from small farmers doing their thing in Colombia's Santuario region. The result is a medium-dark blend of that exudes a strong aroma and has subtle notes of cherry and cocoa.
And because each 8-ounce cup has approximately 7mg of CBD, you can expect the same caffeine boost you'd get from normal coffee, without some of the side effects—namely, the jitters. Because of CBD's anti-anxiety properties, the idea is that you'll wake up without getting worked up. Of course, there's the chance you also grow a little sleepy. But that's a risk you'll have to take, assuming you want to drink coffee like the Red Headed Stranger.
Naturally, this is just the beginning. In the near future, you can expect an entire collection of CBD products, from gel caps, to teas, to topical creams.
Yup. Willie Nelson has gone and Goop'd himself.