-Martinis.
-Steak.
-Gold keys.
-Bunnies.
-Bunnies.
-Also, bunnies.
Indeed, as the checklist above clearly indicates, the Playboy Club is back. After a 32-year-hiatus, it will officially return to its former glory tomorrow, just north of Hudson Yards.
As you may know, this is the first such club to open under the stewardship of Playboy's new CEO, Ben Kohn, and 27-year-old Chief Creative Officer, Cooper Hefner. It's also the only such club in the US, since the Vegas outpost closed in 2012. Sorry, other cities.
Running the show here is Richie Notar, formerly of Studio 54 fame and currently of Nobu fame (both of which are pretty solid fames, if you ask us). He's taken the liberty of hiring a master sommelier to head up the beverage program, and created a rather worldly menu full of things like things Spanish turbot and hamachi sashimi, as well as updated classics like Ribeye steak frites. They'll also be the only restaurant in New York to serve olive-fed (yes, olive-fed) wagyu miyazaki steak. One presumes it's delicious.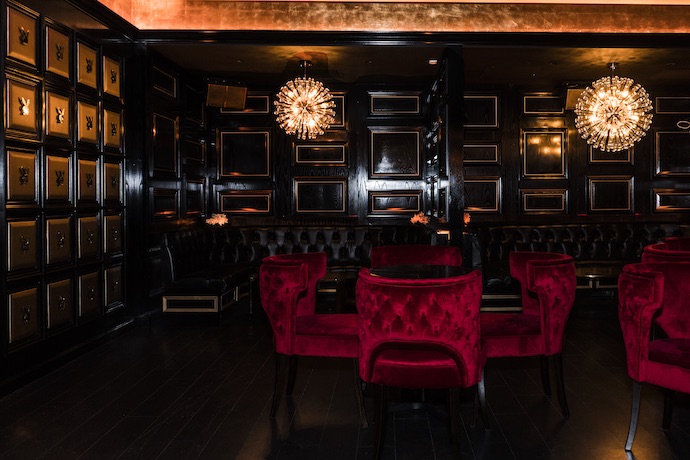 If you're a nonmember, you'll be enjoying these indulgences from the public café/restaurant at the front of the space, outfitted with black leather banquettes, a glorious oval-shaped bar and TVs showing photos from Hef's personal archive. There's also plenty of gold trim. And bunny insignias. Which should go without saying.
But if you've decided to acquire a membership at one of four tiers, you'll use your Playboy key (or titanium card) to access four mansion-esque lounges beyond the restaurant. Bartenders will mix single-estate rye vodka martinis at your table from a golden bar cart. The bunnies, wearing those iconic bunny bodysuits, will deliver after-work truffle fries. If you're lucky, you'll have a view of the two-foot zebra-striped eel swimming laps around a gilded bunny head-shaped reef in the 600-gallon custom-built aquarium. Yeah. It's good to be a member.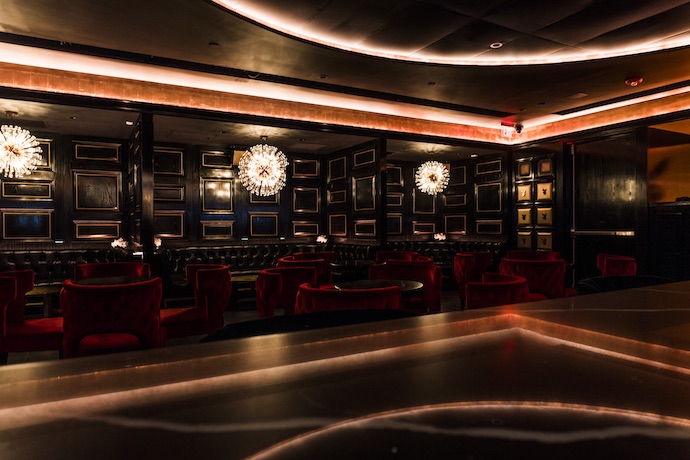 Not least because you'll be able to sneak into the Black Box—the club's, err, clubbier space, with ticketed live performances and DJs—through the back, and use a members-only app to book tables and pre-order drinks. Depending on your tier, you'll also get complimentary stays at the adjacent Cachet Boutique Hotel, chauffeur service to and from the club, gratis tickets to Playboy's infamous Midsummer Night's Dream party and access to the Rabbit Hole—a three-story subterranean speakeasy for who knows what.
Whatever it is, we're guessing it's pretty okay.