Things you can currently purchase from a vending machine: a red Powerade and a dusty chocolate bar.
Things you wish you could purchase from a vending machine: locally-sourced lamb shoulder chops, country-style pork ribs and beef ribeyes.
Right? Right.
It sounds a little sketch, sure, but it's happening, yes, yes, it's happening, and gloriously so, at two locations in Upstate New York.
This big, weird (but not-so-weird) idea comes from the mind of husband-and-wife Joshua and Jessica Applestone, who opened their first whole animal butcher shop in Hudson Valley 14 years ago. Their latest project, the eponymous Applestone Meat Company, aims to make fresh cuts of extremely high-quality meat more accessible to consumers.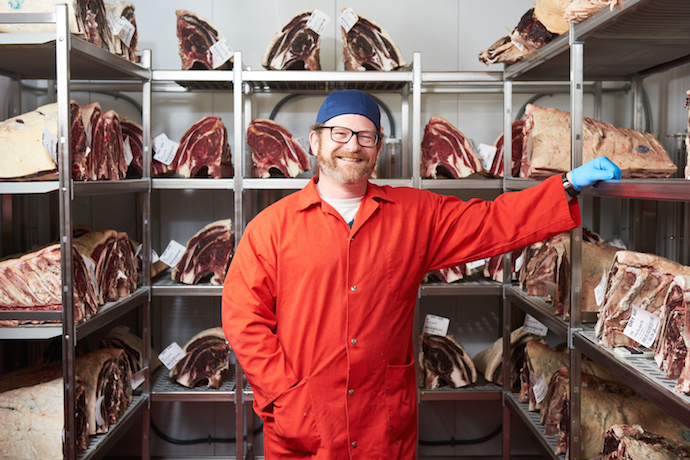 Hence, the vending machines: there are four of them right outside their butcher shop in Stone Ridge—one for beef, one for lamb, one for pork and one for sausages. (There are three in Accord.) Vacuum-sealed raw meat never sits for more than a week, and processed meat (like hot dogs) never sits for longer than two. While the selection changes depending on availability, customers can expect some basics, like ground beef and pork chops, as well as some less traditional cuts, such as country-style pork ribs and flat iron steaks. Rest assured, all of the meat comes from animals humanely raised at a family-owned farm and slaughterhouse in nearby Pine Plains; none of it is ever frozen.
The vending machine-ing of everything is a natural byproduct of late capitalism, our everything-on-demand marketplace wherein we increasingly expect to have anything we want, whenever we want it. Last year, a Silicon Valley startup called Bodega became the object of internet ire, with its not-so-veiled attempt to replace your favorite corner store with app-controlled pantries. But Applestone is different: they're not replacing the little guy, they are the little guy. One hopes, perhaps sanguinely, that the big factory farms don't take notice.
Fortunately for New Yorkers, more of Applestone's vending machines are on the way. They have plans to open a store in Hudson later this year, and an outpost in Westchester soon after. Then, they'll explore options in the city.
"Then" can't come soon enough.