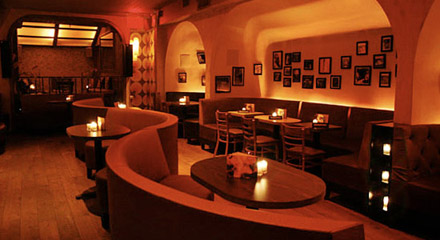 We're all fans of a strong whiskey coke and
some good blues
. Throw in a wooden beaded curtain and you may even get us past 137th Street.
You can put away your cab fare for now, because new lounge
Tillman's
(from one of the Pravda guys) brings old-school Harlem to Chelsea. Part the beaded curtain up front to enter a brown-hued lounge straight out of '50s Harlem with cedar floors, mahogany leather banquettes and prints of gentlemen puffing cigars—an unpretentious drinking hole with no VIP section (sorry, high-roller).
The cedar stone bar will serve you up a stiff drink or pint of Sugar Hill Ale in no time—if you want to duck the bar crowd, take it to the back room, which is outfitted with private alcove booths. The best seats might be in front of the small stone fireplace on the raised platform in back (where open mic nights will eventually take place—just remember, if your freestyling sucks, a microphone won't make it any better).
Food is on the way—we've heard grilled cheese sandwiches arrive in two months. The best part about Tillman's, though, might be its musical ode to the Apollo Theater—every night the bar picks a person to be in command of its music remote control and lets him or her DJ songs from a 40,000-track playlist. Player beware, though—if your picks are unpopular, you'll be moted as they take the control back from you (the shame is palpable).
Yeah, it's rough—but you're in Chelsea now.