Since his breakout role in Call Me By Your Name, Timothée Chalamet has not simply become a household name but a state of mind, a bedroom theme, exuding a "keep calm and Chalamet on" kind of "it" boy beauty, substance and style… [stares longingly out of office window] What was I saying, again? Right, style.
Artist Andrew Mania has unveiled a commemorative series of merch inspired by Elio Perlman, the 22-year-old actor's indelible character in Call Me By Your Name. His moody portraits of Chalamet have been reimagined in the form of variously colored t-shirts, V-necks, mugs, phone cases, totes and beach towels (are you kidding me with this beach towel???). Amazingly enough, all of these shrine-ready accessories are available for under $50.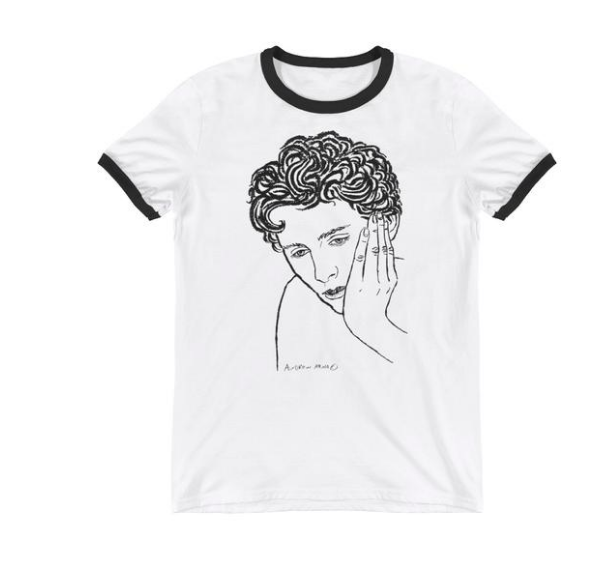 The film's screenwriter, James Ivory, was originally seen sporting Chalamet's mug at the 90th Academy Awards, where he won the Oscar for Best Adapted Screenplay. Not only did Ivory's painted button-down make the standard tux feel more interesting, but every Timothée Chalamet worshiper immediately wanted their own Elio-inspired gear.
Brooding yet playful, seductive yet naive, Timothée Chalamet offers the kind of style, grace, talent and conviction that fully justifies you wearing his face on a t-shirt this summer. Particularly if you happen to find yourself riding a bike down a bucolic dirt road somewhere in Northern Italy. Or biting into a juicy peach.