The place is all but empty when I arrive. With its nondescript black patio tables and unadorned chairs slightly askew, its fake-old red brick and corner jukebox and the generous cursive of its illuminated sign—"The Light Times Club," it reads ruefully—casting an insignificant glow, the tavern gives off an air of melancholy, expressing in its utter inactivity the fullness of a life well-lived, before. There may be no urban space more reliably happy, sad, than a newly vacant bar; and here, it seems, is the most vacant bar of all, because this is not a bar. Not really. It's a funhouse silhouette of a ghost of bars past.
The spawn of sardonic Chicago visual artist, Don't Fret, the Light Times Club is a roving, self-described "conceptual watering hole." In its most recent home (it ended Saturday), at Emporium Arcade Bar's pop-up space in Logan Square, the installation took the form of a small, non-functioning bar within the space's larger, actually functioning bar. The walls were red brick and there was a familiar black grate over a single window. When I visited last Thursday, the wooden door swung open; inside, the bar felt the way certain museum exhibitions, tasked with recreating an historical site, do. It was not so much an exact replica as an homage that, by the very fact of its homage-ness, became something new and different.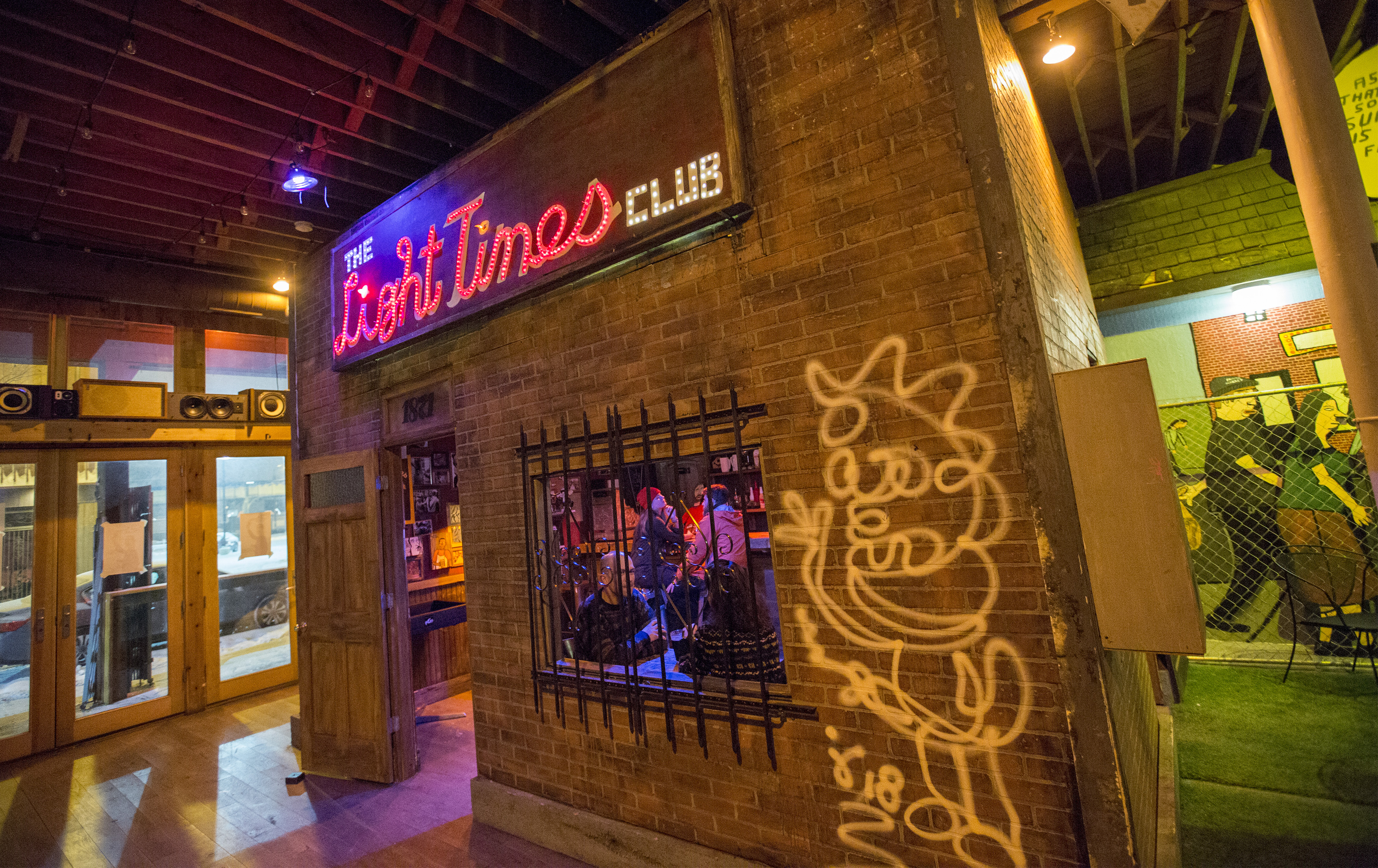 "I wanted to build a joint that talks about the working class ethic of Chicago, as well as my viewpoint on Chicago and its inhabitants—an ode to the past and a nod to what's left of the present," Don't Fret told me, over email. "I wanted to build the quintessential Chicago corner tavern."
The Light Times Club was quintessential—extremely so. Occupying the walls were framed photographs of Chicago icons, from Carl Sandberg to Mayor Daley to Barack Obama. An old-school cashier register sat perched on the corner of the bar. Old Style regalia abounded. A small TV hung in the corner—while I was there, a recorded episode of Whose Line Is It Anyway? was playing—and on the ledge below it lay various VHS tapes. Outside the bar area, there was a small "patio" on a strip of green carpet, and a little further along, the façade of "Dark Times City Pawn." A window offered a glimpse of the items inside, which included an old Playstation and a plastic flamingo. Completing the scene were the (functioning) jukebox and a storefront for a (not functioning) restaurant selling standard Chicago street fare. Polish sausages and hot dogs and the like.
What distinguishes the Light Times Club from an actual watering hole, or a mere facsimile of a watering hole, is Don't Fret's distinctive style, which manifested itself in various details, large and small, throughout the installation. His paintings, dotting the walls, featured colorful, indistinct figures, specific in their un-specificity. They mirrored the close-to-life-size cutouts of the bartender, the employees of the restaurant and the people in the mural behind the patio table and chairs. This style lent itself to the labels for the alcohol behind the bar as well; composed in large handwriting, they advertised things like "Mike Ditka's Mid-Range Chardonnay" and "Old Keller Whiskey," described as "vaguely good." These touches effectively serviced the grander concept: a somewhat generalized ode to a very particular time and place.
"While there's something mildly irksome about paying $9 for a glorified gin and tonic named Da Ghost of Studs Terkel," Ryan Smith observes of the installation for Chicago Reader, "there are plenty of recently established joints in Logan Square and other gentrifying neighborhoods that fake a kind of lived-in authenticity with taxidermy and vintage Old Style signs on the walls, old-timey cash registers, and $15 cocktails whose names reference relics from Chicago's past."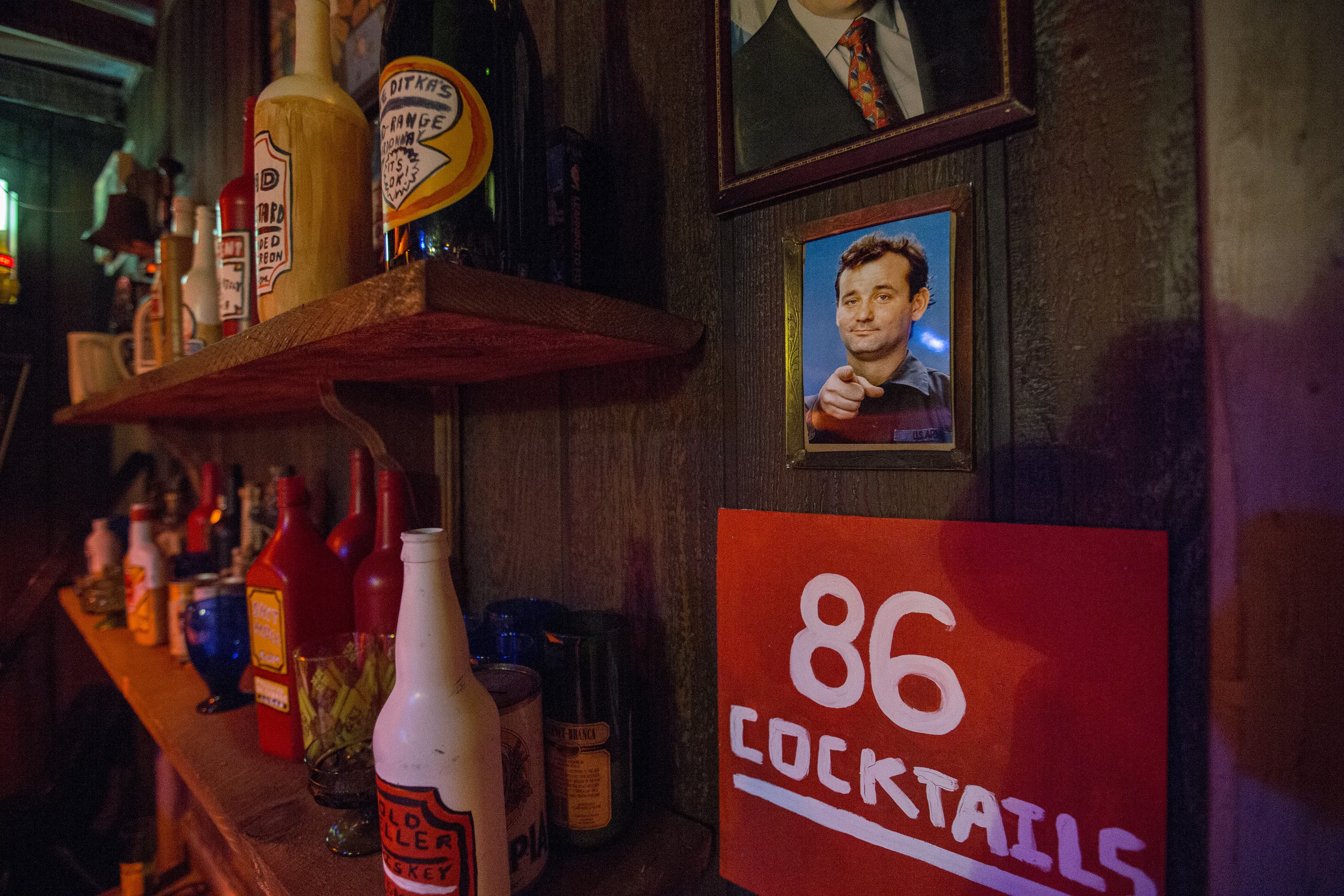 Indeed, with the exception of the artistic flourishes, it's difficult to discern any material difference between Don't Fret's conceptual bar and the bars Smith refers to. Those establishments—like EZ Inn in West Town, Lone Wolf in the West Loop and The Revel Room in Wicker Park—all attempt to capture the spirit of the watering hole, and cash in on the nostalgia that spirit engenders, even as they're complicit in the kind of large-scale gentrification edging authentic corner bars, taverns and dives out of the city. They pay homage to the very places they're helping push into obsolescence—which, in turn, inflates the value of the homage. The Light Times Club, given its temporariness, carries an added layer of perhaps unintended meaning; in a way, it manages to represent both the precarious status of the corner bar and the relative ease with which bougie simulacra of the corner bar move in and out of a neighborhood, dislodging what came before it. (Emporium's pop-up space is a kind of sped-up, meta-microcosm of the gentrification that occurred on the very block of Milwaukee Avenue on which it resides; Slippery Slope, Chicago Distilling, East Room and Emporium all opened within the last five years.)
I don't intend for the above to read as an indictment of these bars. Almost every one I've named here, I've also written about and frequented socially. I'm 26, which means I've only been going to bars for the past five years. As such, I've come to seek out the real dives because of how much I like the fake ones. And unlike drinkers a generation older than me, I have trouble telling the difference. If someone had told me, my first time there, that Danny's opened earlier that year, I would've believed them; if the cocktails weren't $10 at EZ Inn, I might've assumed the place had been open for decades. On a personal level, I'm not sure it even matters, anymore; it seems slightly unfair to condemn these bars for chasing after the same ideas of authenticity, familiarity and local history we are when we seek out a corner tavern or dive. And isn't that what the Light Times Club is all about? Maybe not.
"I think [at the] end of the day, sincerity shines through most, and I think in the hype and glamour of this moment in Chicago we have hit peak saturation for these sort of 'old-timey' or 'dive' bars," Don't Fret told me. "The notion of spending 100,000 dollars to make a joint look like its 60-years-old is ridiculous on every level, insincere... and yes, we can smell the varnish. I think (and hope) that the stalwarts will live on for generations and that patrons will continue to support spots like Rainbo [Room], Green Mill, Danny's, Gold Star, Innertown, Matchbox, Archie's and a thousand other neighborhood gems. I'd like to think the consumer is smart enough to not drink the Kool-Aid with these hip new 'dive' bars, but I've consistently been proven wrong."