Prices for artwork by Andy Warhol are notoriously insane. Like, well into the nine figures level insane. Which is why Calvin Klein's latest capsule collection featuring stills from the artist's seminal 1963 art film Kiss emblazoned on a selection of cotton underpants, bras, tanks, and tees seems like such a good deal. For just $35, you—yes, lowly you!—can have your very own Warhol. Assuming, of course, you're down to sport it on your behind.
It's not the first time the purveyor of classic American staples like Brooke Shields-favored denim and brand name-emblazoned briefs has partnered with the Warhol estate. Paintings by Warhol have featured prominently in not one but two of the brand's recent ad campaigns, and the spring 2018 collection featured Warhol motifs emblazoned on (much less affordable) silk dresses and men's jackets and pants. A multi-year partnership between the two, announced in November, granted Calvin Klein what a press release calls "unprecedented access" to the Warhol archive until 2020, meaning there's no way this is the last you'll see of CK x AW.
"I've come to realize that Warhol's genius goes much deeper than cheerful Campbell's Soup paintings," chief creative officer Raf Simons, a well-known Warhol fan, said in the same release. "He captured all sides of the American experience, including sometimes its darker sides. Warhol's art tells more truths about this country than you can find almost anywhere else."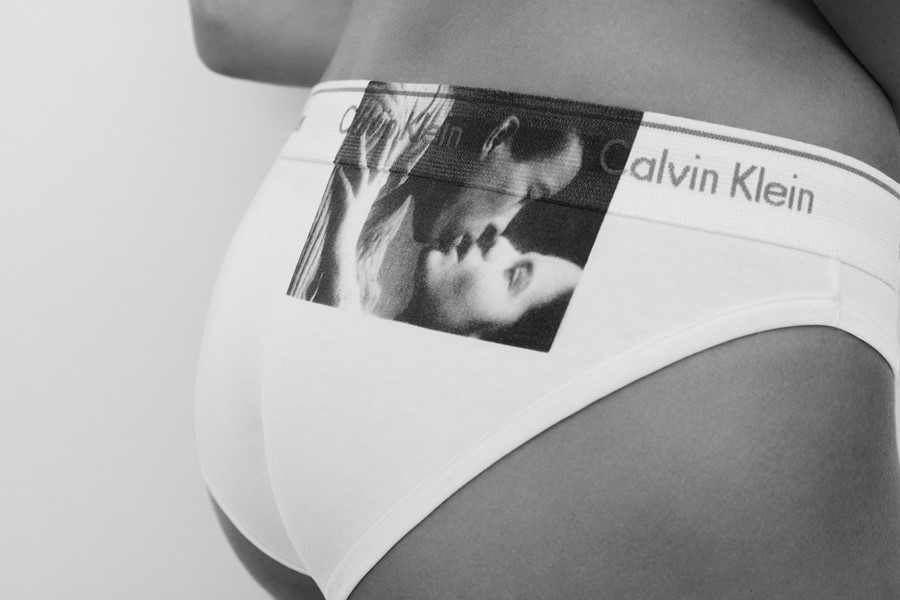 The Valentine's Day-ready collab, which became available yesterday and was first reported on by Refinery29, pays homage to one of Warhol's earliest video works, which was part of a trilogy of films that also included Eat and Sleep. Warhol was famously fascinated with recording the mundane, best evidenced by Empire, the 1964 snoozefest that features eight hours of footage of the Empire State Building. At 55 minutes, Kiss is (thankfully) a livelier, sexier film that shows various couples making out for three and a half minutes each. In addition to cameos by artist Robert Indiana and Warhol Superstars Jane Holzer and Gerard Malanga, the film features several homosexual and interracial couples, which made it provocative at the time of its release.
Warhol, who died in 1987, famously predicted that in the future, everyone would be famous for 15 minutes. What he could never have forecasted though, was that in the future, everyone would be wearing his artwork on their undergarments. One can only imagine that he would have loved it.