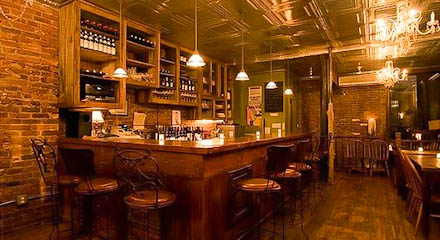 Wine bars have had their day, but you've been secretly wishing someone somewhere would replace all those vintage Rieslings with some cold-necked ales and a bottle top or two.

Enter the revolutionary...beer bar.

Today, East Village wine bar Grape and Grain will birth its little brother Against the Grain, an intimate "beercentric" bar just next door.

Built around a 12-person community table aptly named "The Mingler," this haven for everything frothy hosts a "collection of worldly beers," including the spicy Hitachino Red Rice from Japan and the Belgian Saison Dupont, a Tripel (that means strong) brewed in the Trappist style. 

Add a menu of bar foods slathered in a beer broth of Bear Republic Racer 5—la full-bodied IPA from Healdsburg, California—and the dimly lit interior and exposed brick walls might just fade behind the savory glow of  Beer steamed cockles (baby clams), Beer sausages (knockwurst, bratwurst and kielbasa), and Beer steamed peel 'n' eat shrimp.

Of course, not everything is beer-soaked in this East Village rhinestone.  We hear that, come Friday, Against the Grain will be starting a weekly ritual of free oyster shooters to everyone in the bar for a midnight "oast."

But with only oysters, house cocktail sauce, and lemon as ingredients, this may really be just a way to cleanse the palate before your next bottle of suds.