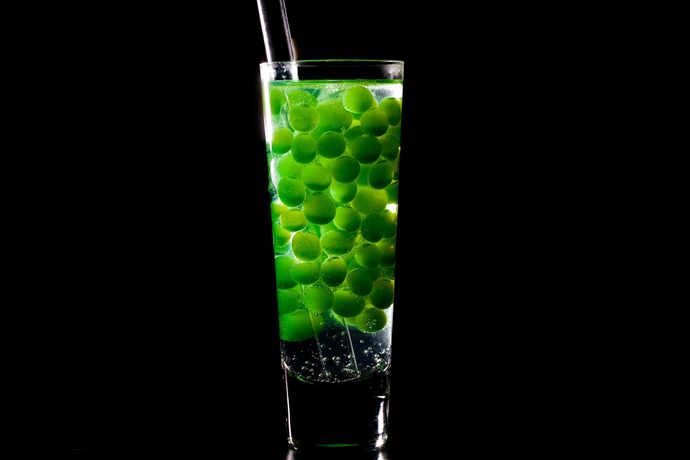 If you've ever wondered how best to make perfectly spherical pearls of rum, or shoot an Old Fashioned into a hollowed-out ice cube, or mix cognac and curry into something decidedly un-gross, you're in luck:
The Aviary
, that highly experimental Chicago drinking den from the mad geniuses behind Alinea, is coming out with their first-ever recipe book. It should ship out sometime before next summer, at which point you can host a dinner party and impress the shit out of some friends with your extensive knowledge of
rooibos tea
and
advanced infusion vessels
.
Much like the bar itself, the genesis of
The Aviary Cocktail Book
is the result of both a maniacal obsession and an unceasing desire to push past the boundaries of a traditional medium.
Years ago, when Alinea published its cookbook, an artist for Pixar named Allen Hemberger decided to recreate every single dish. It took him five years. Along the way, he documented the process in what would become
The Alinea Project
; designed by his wife, Sarah, it's more or less the foodie equivalent of a cover album. Naturally, the Hembergers sent the finished product to the guys at Alinea, who loved it so much they asked the pair to help create the book for The Aviary.
Nick Kokonas, who owns The Aviary with chef Grant Achatz, says the book will feature approximately 100 cocktails, all of which have been (or will be) served at the bar. Of those, 50% should be doable with the tools you have at home, 25% should be challenging but doable and the last 25% "are a good source of inspiration and ideas," because you have to imagine there's a reason you're you and not a bartender at The Aviary.
In addition to stunning, large-format pictures, the book will also feature detailed crafting steps. Kokonas says this is very unusual for cookbooks, and almost unheard of for a cocktail book, because of the cost. But, in classic Alinea fashion, they're self-funding the project in order to bypass an outdated model of cookbook publishing.
The result for them: a bigger budget, longer production schedule, improved overall quality and more money for the people who actually work on the thing.
The result for you: a glorious peek behind the curtain at one of the most inventive cocktail bars in the world.
Not to mention, a damn good coffee table book.