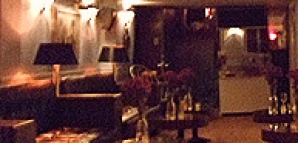 In New York, being stopped by a dress code can mean either you're underdressed or uninvited...or it's the latest game at the newest door in the city.

At the finally opened Beatrice Inn, the quietly-famous West Village locals' restaurant turned Paul Sevigny's latest hangout, suits and ties are required, but (surprise) almost no one inside is wearing either (oh, the ironies of nightlife).

The elegance of this underground lounge begins with door host Angelo's polite query about said threads, but don't let the lack of either define your night. Make it inside down the rickety alley of steps and you'll find the charm of an 80-year-old colonial living room with hardwood floors, table lamps and oil paintings, and a distinctly beautiful, well-garbed crowd. Low ceilings (you can palm them standing up) create an inviting atmosphere and make everyone look very, very tall (in our book, the illusion's worth the claustrophobia).

Begin the night in one of two quaint retro lounges—where moments of solitude with your friends are layered by perfectly crowded, smoke-filled bursts of society hipsters—or claim space at the bar in a brilliantly white-tiled hall. Around 1am, follow the party to a backroom dance floor lined with red leather couches and mirrored walls, where a DJ and disco ball preside (and where, dare we say, a little debauchery begins).

And if you had a tie, this is about where it would come off.