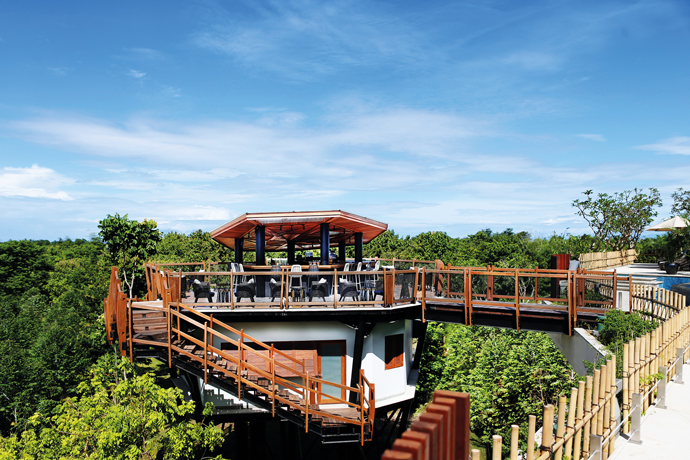 Back in the day, your experience with treehouses was chiefly fort-related, and probably included a rope ladder, rough wooden boards and maybe a flag. It was great.
But hardly a place to find a good caipirinha.
So for that, there's Forest Bar, a new eating and drinking spot located high atop the
Rimba Jimbaran resort
in Bali, which is reason enough to consider a trip to Bali.
As you can see in the photo above, they named it well. They also traded rope ladders for actual stairs, and the structure itself includes an open-air bar and lounge-y seating—all upgrades over your old backyard situation where a T-shirt doubled as the door. Better provisions, too, with snacks inspired by Latin America and the Caribbean. So you can end a hard day by the pool with grilled jerk chicken skewers, chimichurri-covered steak or a Cuban sandwich, even though you're really far from Cuba.
And to drink: cocktails of the tropical variety like mojitos, margaritas, caipirinhas and other vacation staples that you desire when surrounded by green forests, listening to the sounds of birds and patiently waiting for the barkeep to muddle the hell out of some fruit.
Treehouse amenities have come a long way.