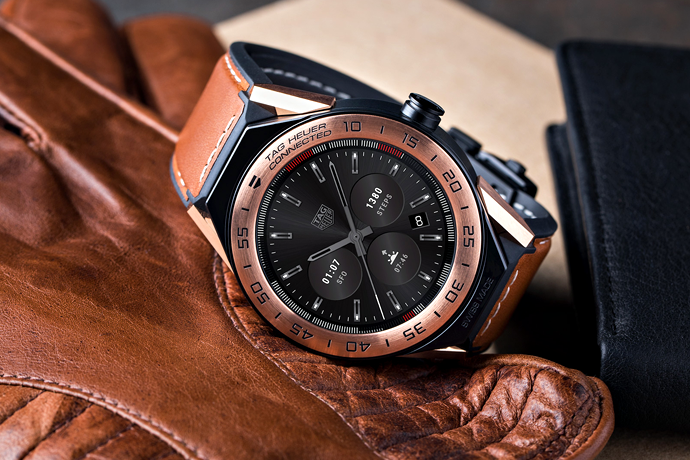 There's something special about wearing a Swiss-made timepiece.
Then again, there's something—well, a lot of things—beneficial about wearing a smartwatch.
And the latest effort to bridge those two sentiments is Tag Heuer's Connected Modular 45, a watch that takes the company's long history of traditional Swiss horology and wraps it around a brain powered by Intel's equally impressive tradition of Silicon Valley know-how.
We got a sneak peek at the smartwatch that's just become available online and is popping up in shops across the country as we speak, so here's what to expect: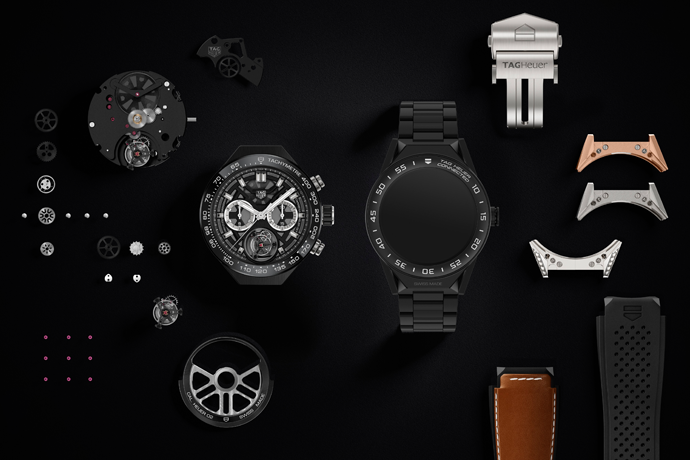 It's modular. Hence the "Modular" in the name.
Everything on the watch, down to the lugs, can be swapped in and out with a simple press-and-clack that takes about two tries to master. That means that one watch can essentially be dozens of different watches—or at least as many additional bands, lugs and clasps as you're willing to shell out for. There are rubber, leather, ceramic and titanium bracelets to choose from. Eleven case options. And that includes the option to swap in a mechanical watch for days when you're feeling old-school.
It actually looks like a watch. A really nice watch.
Most smartwatches look like tiny wearable versions of the smartphones their companies are hawking alongside them. This one is made by Tag Heuer. In Switzerland. And it shows. They basically took a luxury timepiece and seamlessly replaced the dial with a touchscreen (which is easier said than done). The size is on the larger side at 45 mm, but not outrageous, and the finishes are what you'd expect from a storied watchmaker. Plus you can get in on the action by customizing the dial—either using one of the 30 predesigned options based on popular and vintage Heuers or making your own custom dial.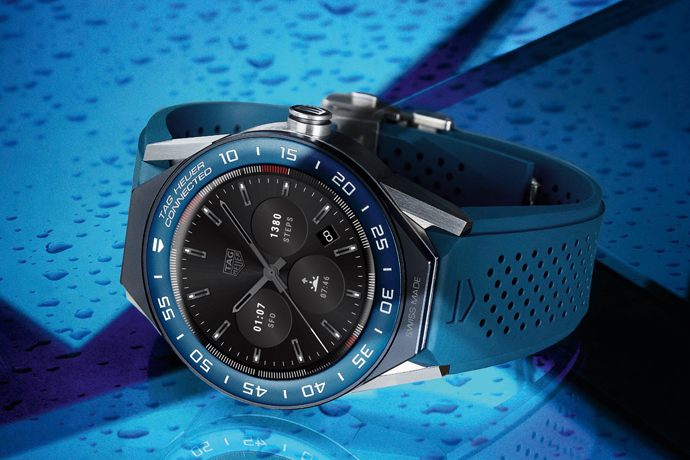 Yes, it's a fully functional smartwatch. And it's got Intel inside.
The processor is far more robust than what you'd usually find in a wearable, which means we didn't notice any lag between swipes or running multiple apps. The interface is built on Google's Android Wear 2.0 platform—but plays well with others, supporting iOS as well. It has an assistant function, pairs with your phone notifications, and has GPS, NSF payment chip, fitness trackers and all that jazz.
It will have a new "intuitive scheduling" function that reacts to your schedule in real time.
So instead of setting a reminder to pick up something at 6pm when you think you'll be leaving work, you'll just set the reminder to "when I leave work" and the watch's sensors will know when you're on the move and remind you once that happens—which is helpful on days when you're held up at the office another hour and that 6pm reminder would've gotten lost in the shuffle.
It's the first Swiss-made smartwatch ever.
And that's kind of a big deal.