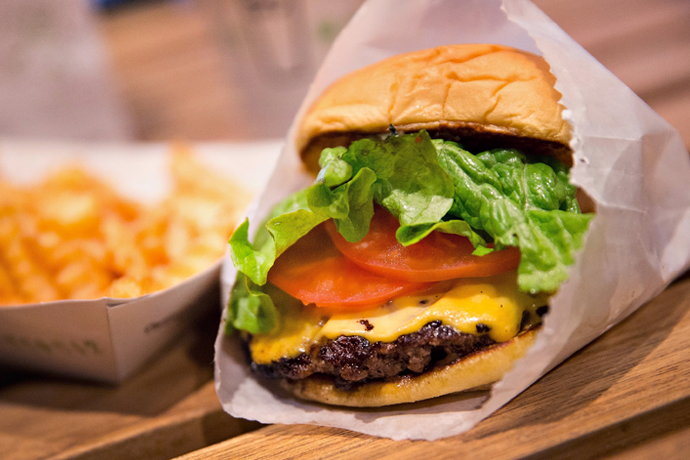 Shake Shack has 100 locations across the globe, from its initial home in New York to more recent outposts in Tokyo, Dubai and Moscow.
So if you're craving a ShackBurger and some crinkle-cut fries, they're not exactly hard to find.
But if you're craving a printed tome dedicated to such things... there's the forthcoming
Shake Shack: Recipes & Stories
, a new book from the guys behind the burger. It's not available until May 16, but you can preorder a copy now. And here's the kicker: your preorder comes with a free burger. Well, a
voucher for a free burger
, as actually emailing you a real burger is still a few years out.
Once the book arrives, you'll be in possession of, as the title promises, both recipes
and
stories. Seventy recipes, in fact, supplemented by tales of the plucky burger stand's rise to international dominance. And then you've got those 200 photos to look at, many of which should not be viewed on an empty stomach.
So if you just want to adorn your coffee table with some light reading, this can do that. But if you'd rather try your hand at recreating these things for yourself, you'll be well-equipped to do so. Consult the recipes for burgers, hot dogs and chicken sandwiches. Make those famous fries. Whip up some hand-spun milkshakes for your friends. Get so good at it that you create a competing restaurant of your own called "Shāk Shack."
Then just sit back, ignore the cease-and-desist letters and wait for the lawsuits to arrive.
Or maybe forget that last part and be content with a new book about burgers.
We could see it both ways.