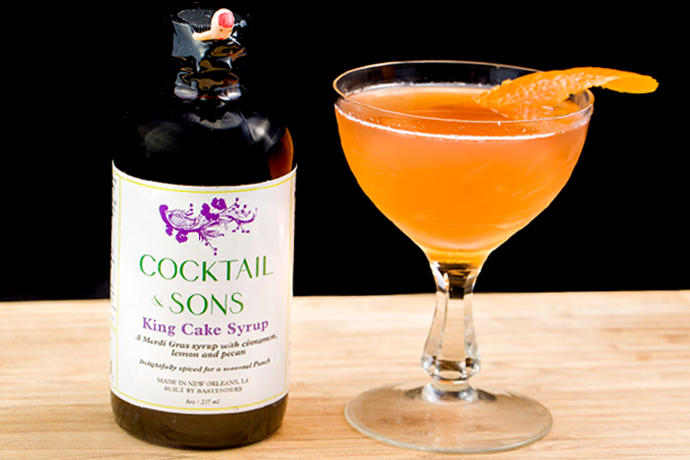 The king cake is one of the stranger Mardi Gras traditions. You shape sweet brioche dough into a circle, bake it, glaze the top with all manner of colored frosting and then hide a plastic baby/choking hazard inside.
It's great fun.
And now, it's a cocktail syrup.
Because Cocktail & Sons, the New Orleans–based makers of fine drinks-enhancers, are offering a seasonal King Cake Syrup for use during all your Mardi Gras festivities. There's even a little plastic baby on the bottle, which is weird but authentic. You can find it in stores (check the site for retail availability) and online now, so procure a bottle posthaste.
Once you do, get to work mixing. The syrup itself is comprised of cassia bark, pecan, lemon and sugarcane for a cinnamony, nutty brioche flavor that's basically like drinking a king cake. And if that doesn't spur a bunch of ideas... don't fret, it's a tall order. But fortunately, these guys recommend the following cocktail, which is easy to make and a significant upgrade over the two-for-one 32-ounce Hurricanes you'll find on Bourbon Street.
Night Tripper
1 1/2 oz bourbon
3/4 oz Cocktail & Sons King Cake Syrup
3/4 oz Dolin Dry Vermouth
2 dashes orange bitters
In a mixing glass, combine all ingredients. Add ice, and stir 10 to 20 seconds. Strain into a coupe. Twist orange peel over drink, and garnish.