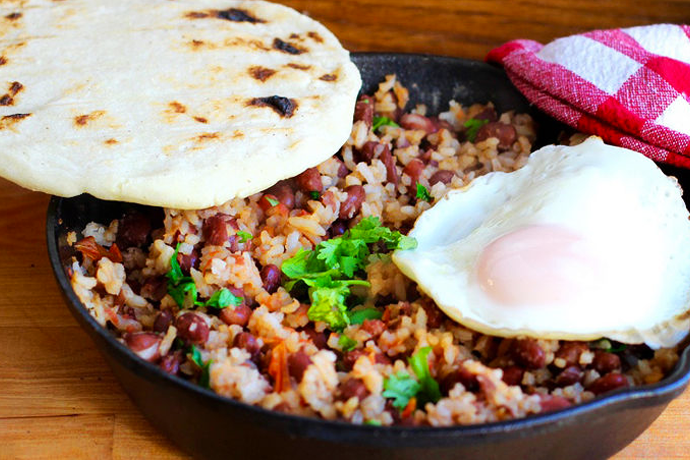 There's an eatery in Chico Norte, a relatively upscale neighborhood in Bogotá, called
Diner
.
Diner is not a diner.
It's far too nice. It doesn't have a jukebox. They even serve sushi, which may seem sketchy for a place called Diner but is probably pretty okay. And yet, in a way, the restaurant still manages to channel the esprit of those linoleum-floored, shiny-boothed temples of greasy goodness.
This is due primarily to their signature dish, the calentado, and its legendary status as a hangover cure.
The calentado is a traditional Colombian breakfast, but really, it's just a glorified term for leftovers (the word "calentado" literally means "heated" in Spanish). As with many other cultures' finest, most gluttonous gastronomical creations, the calentado is sustenance-providing peasant food, originating more out of simple necessity (i.e., "let's not waste stuff") than to sate the primitive desires of gringos with a hangover.
Most iterations of the dish are real kitchen-sink-type situations, composed of reheated or pan-fried rice, beans, potatoes, meat (chorizo is best, in my opinion) and whatever else happens to be lying around. Then, the whole big mess is topped with an arepa and a few fried eggs, because nothing turns dinner into breakfast faster than errant splotches of runny yolk.
At Diner, you can take your pick of calentados (which, I must assume, are not
actually
made with leftovers). There's an Italian one with pasta. There's a seafood one, which may not be the best option first thing in the morning, but could do you well if you show up for dinner. And, of course, there's the Monkey, interspersed with ground beef, corn, potatoes and plantains, that's as close to a classic as you're going to get. Colombian food, in my experience, is inexplicably absent of sauce, so you'll want to request some salsa and, if you're feeling particularly overindulgent, a generous portion of queso.
Of course, the calentado can be found at almost any traditional Colombian restaurant—those unmarked holes-in-the-wall whose only sign of life is the line of working-class Colombians stretching out the door at mealtimes. Other notable calentado spots in Bogotá include
Pan Pa' Ya
and
La Hamburgueseria
(both of which are pretty ubiquitous chains), as well as
90 Calentados
and
Patria
.
Given the size and nature of the dish, you won't want to make a habit out of the humble calentado. It could very easily put a wrench in your workday, as I found out the hard way one soporific afternoon after a long, ill-advised lunch break. But the thing will work wonders after a night of drinking aguardiente, an anise-flavored Colombian liqueur that has the dangerous tendency of going down way, way too smoothly.
And for those who won't be visiting Colombia anytime soon (which is understandable), I've got good, and probably obvious, news: the calentado is ridiculously easy to make at home.
Just cook up a giant portion of rice and beans and meat for dinner one night, put it in the fridge and go about your business. To achieve the desired effect, maybe head out for more than a few drinks that night. If you have the opportunity to dance the salsa or reggaeton unabashedly out of rhythm, that's even better. Then, the next morning, when you wake up in a bleary-eyed fog, take your leftovers out. Throw them in a pan for a few minutes to heat everything up, and crack some eggs on top.
All of the above should also work fine when you're
not
hungover. But why chance it?