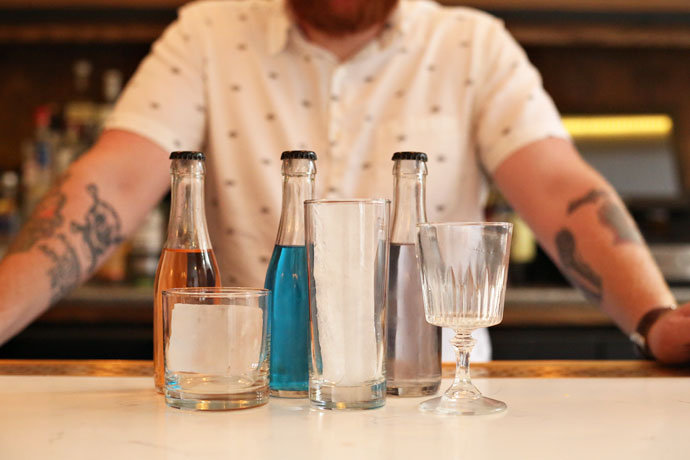 Going the extra mile at your Super Bowl party. Impressing someone on Valentine's Day. Enjoying yourself on a ski lift.
Those are but three reasons that a bottled cocktail might come in handy. Because good drinks can be consumed anywhere, as long as you've got a bottle and a pocket.
So to assist with any portable drinking needs that may arise in your near future, we enlisted Christian Hetter, barkeep at
Bodega
in Chicago, a place where they're no strangers to making good drinks and then securing said drinks within glass bottles. And while you can swing by to sample them on site, he's not stingy with the advice on how you can create your own bottled cocktails at home.
So we asked him how to do exactly that. Here's what we learned.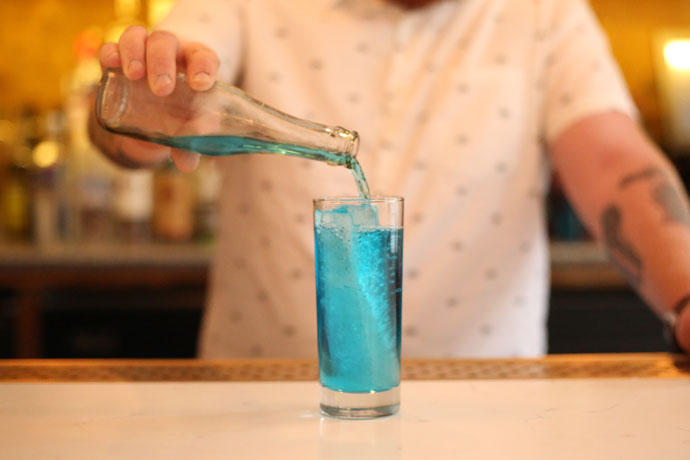 Why bottle a cocktail?
Hetter says: "The biggest advantage of bottling is speed of service. The hard work all takes place in the batching and bottling beforehand. This is nice at events where speed and getting drinks in hand right away are key." The Super Bowl comes to mind. No one wants to be in the kitchen mixing up drinks during the next great Doritos commercial. But pulling from a couch-side cooler of bottles... now, that you can do.
Keep it simple and spirited.
Any drink
can
be bottled, but Hetter suggests sticking to spirit-forward cocktails. "Those are essentially shelf stable," he says. "I think a Black Manhattan (bourbon, Averna, bitters) is a great one to do at home."
So don't throw just anything in there.
"For home use, I think citrus is a tough one to work with. Same with cream or any other non-stable ingredient." Noted.
Shaking and stirring... you can skip that.
Dilution is a key component to any cocktail. But here, rather than making Old Fashioneds to order, you can simply add water to your batched drink. Just try your best to get the ratios right. Hetter says: "I've found that there is no exact ratio for all stirred drinks. So my advice is to first make the cocktail in the classic fashion, by stirring with ice to desired dilution and temperature. With the test cocktail, measure the volume of liquid before stirring and after. The difference is your dilution rate. This can be expanded to accompany any amount." So if your cocktail goes from three ounces to five, you're working with 40% water.
Don't forget to seal the bottle.
Hetter suggests using 187 mL Crown Cap champagne bottles and applying the cap with a bench capper (all can be found at most homebrewing stores). Even easier for home use is a swing-top bottle. But he says: "These should only be used for all-spirit cocktails, as they will not block out oxygen in any real way."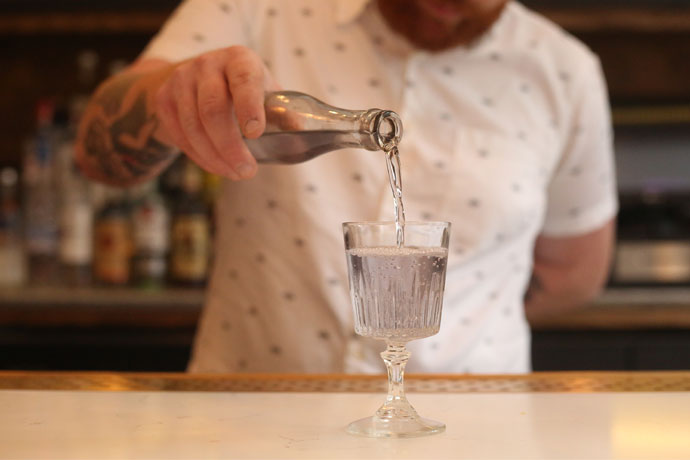 Don't feel like you've got to drink them all in one sitting.
If your bottled cocktail is made entirely from spirits, then it'll last awhile—just like liquor. "Vermouth will continue to oxidize, but will remain drinkable. Any juice will go bad quickly, though, so drink up."
Serve however you like.
"If you dilute the cocktail properly and chill the drink to the appropriate temperature (I like to keep a salted ice bath between 29 and 33 degrees F), then no further action is needed other than enjoyment. I like to serve guests a chilled bottle as well as a rocks glass with ice. I tell them that if they would normally drink their Manhattans up, then they can drink right from the bottle. If they prefer it on the rocks, there's ice there for them to use."
Wise words. Mr. Hetter was even kind enough to share a recipe with us. One that you can recreate, bottle and then take all the credit for at your next gathering.
The Traveler
750 mL bourbon
5 oz amer (Hetter likes to use Amer Wolfberger or Bigallet China-China)
2 1/2 oz Suze
27 1/5 oz water
Add ingredients to a large pitcher or container. Stir and then pour into a couple of swing-top bottles using a funnel. Put bottles on ice to chill. Drink straight from the bottle, pour into a chilled glass or serve on the rocks, per your preference.