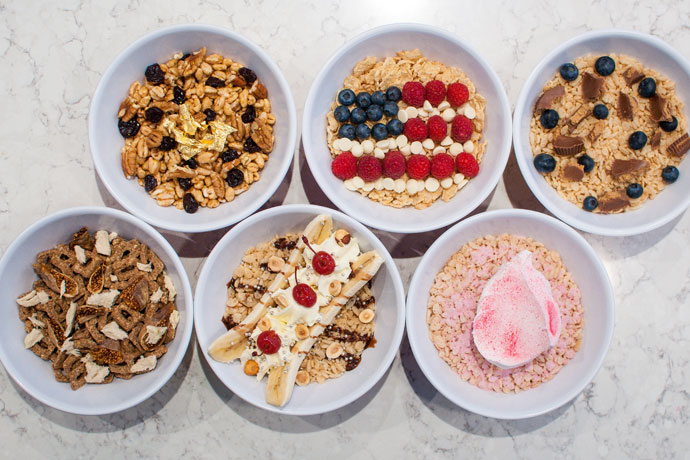 When you think of cereal, you probably think of quick breakfasts and cartoon tigers.
Not Michelin stars.
But that's all changing. Temporarily, at least, because chefs with weighty, hunger-inducing names like Thomas Keller and Daniel Boulud have created bowls of cereal that you can eat in person (at Kellogg's NYC through the end of January) or make at home—anytime you please.
It's all in anticipation of Bocuse d'Or, the upcoming biennial cooking competition based in Lyon, France, that'll see a couple of America's finest chefs compete on behalf of their country. So these cereals are meant to support Team USA in a noble and balanced breakfast kind of way.
Below you'll find each cereal on offer, plus the recipes in case you'd like to recreate them for yourself. And you should. Because it's probably your best and only chance to accurately replicate a Thomas Keller recipe... and then eat it over your sink.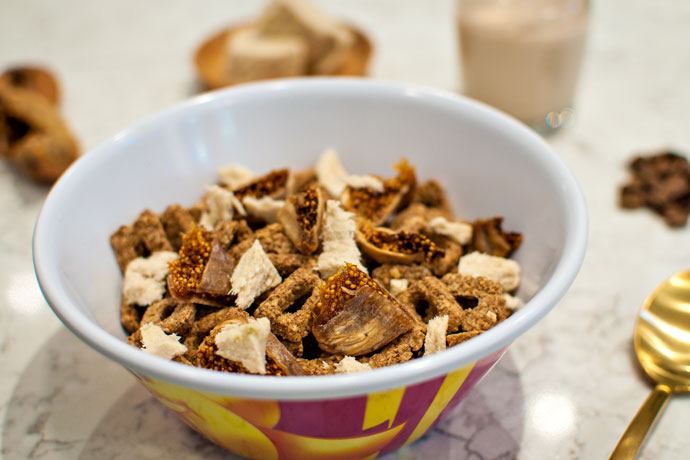 Turkish Coffee Delight
by Daniel Boulud
2 cups Cracklin' Oat Bran
2 tbsp dried fig, diced
1 tbsp sesame halva, crumbled
Coffee Milk:
12 oz whole milk
1 1/2 tsp coffee extract
1/4 tsp ground cardamom
1 drop orange blossom water
Combine the milk ingredients in the bottle, and shake to combine. Pour over cereal.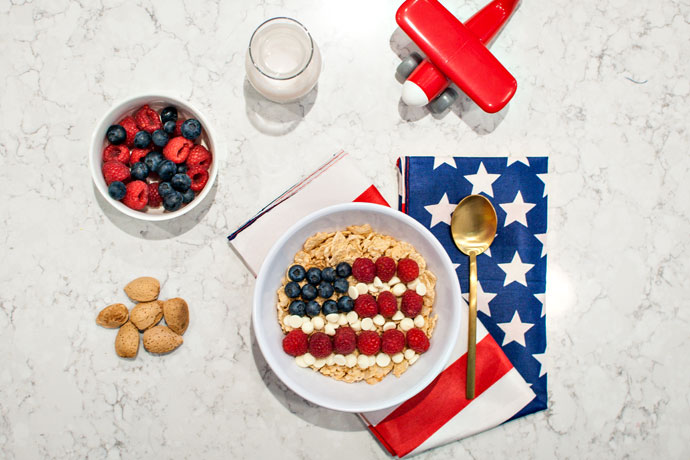 RTG (Ready to Go)
by Thomas Keller
2 cups Special K
12 raspberries
12 blueberries
1 tbsp yogurt drops
almond milk
Arrange the raspberries, blueberries and yogurt drops to make an American flag over the Special K.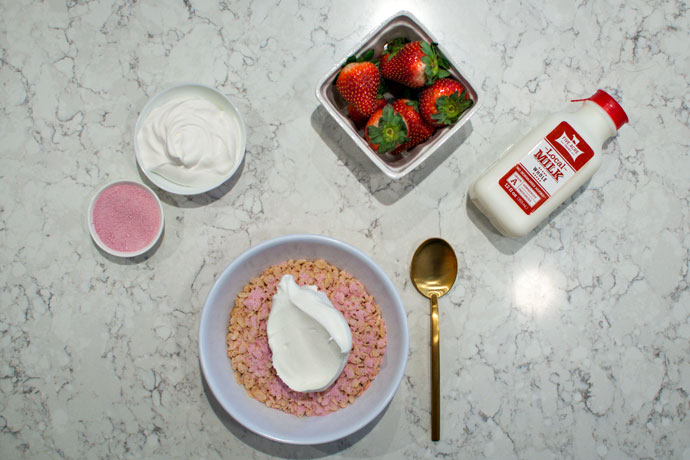 Strawberries and Cream
by Gavin Kaysen
2 cups Rice Krispies
3 oz whipped topping
2 tbsp strawberry powder
Scoop the whipped topping on top of the cereal. Sprinkle the strawberry powder over the cereal and whipped topping.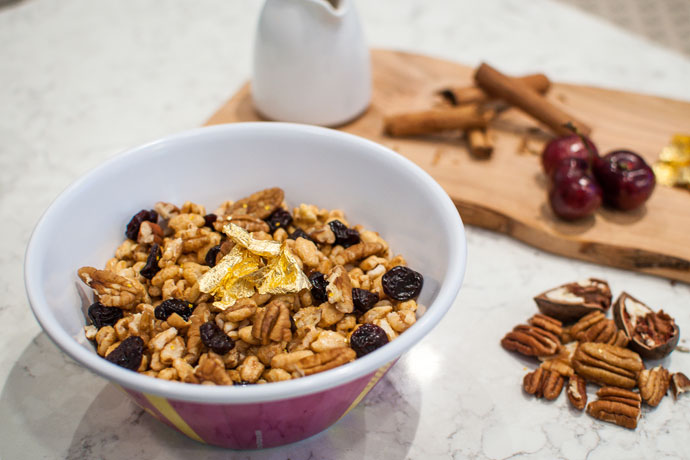 Golden Chef
by Mathew Peters
2 cups Honey Smacks
2 tbsp dried cherries
2 tbsp pecans
1 pinch gold flake
cinnamon milk
To make the milk, infuse 1 quart of whole milk with five crushed cinnamon sticks overnight. Strain and bottle.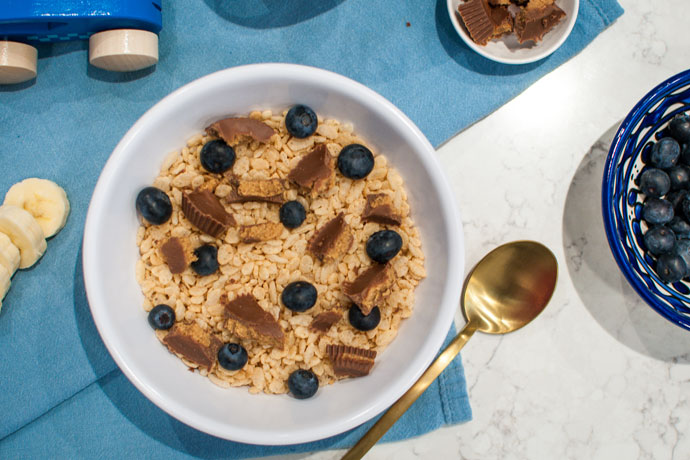 Nebraska Fields
by Harrison Turone
2 cups Rice Krispies
1/4 cup blueberries
2 chopped (large) chocolate peanut butter cups
banana milk
To make the milk, infuse 1 quart whole milk with one sliced banana (peel on) overnight. Strain and bottle.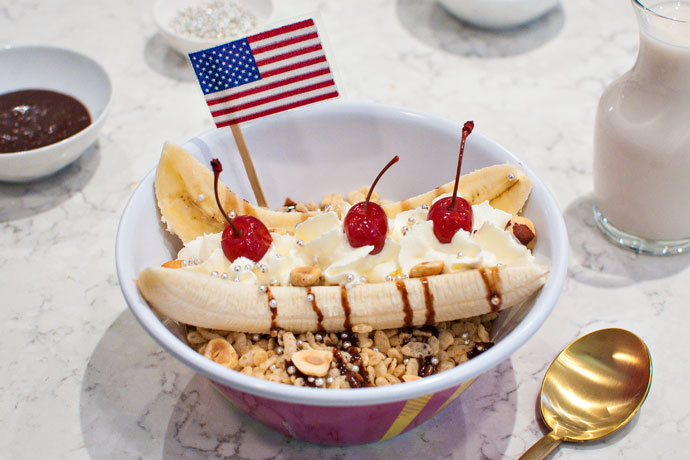 Banana Split
by Philip Tessier
2 cups Rice Krispies
1 banana
3 maraschino cherries
1 tbsp chopped, toasted hazelnuts
1 tbsp chocolate hazelnut sauce
1/2 tbsp silver sprinkles
For the chocolate hazelnut sauce, combine equal parts heavy cream and chocolate hazelnut spread in a squeeze bottle. Place in a water bath to warm and then shake to combine.

Place the Rice Krispies in the bottom of the bowl. Peel the banana and split evenly lengthwise. Place in the bowl as per a traditional banana split. Make three even-sized rosettes of whipped cream between the banana. Drizzle with the chocolate hazelnut sauce and sprinkle with the hazelnuts and silver sprinkles. Garnish each rosette of cream with a maraschino cherry. Finish with an American flag toothpick in the center of the bowl.