Breakfast spaghetti.
We're just going to lay that down right there. Quietly. In case there's an unsympathetic snare drum banging in your head.
If you're still hungover from New Year's Eve (or 2019 in general), take heed. And even if you're not, same drill. Because one day soon—tomorrow, next week, the morning after a particularly rousing Arbor Day celebration—you might be, and you'll require something to get you out of bed and into a poached egg.
So here we've got a potentially lifesaving pasta-for-breakfast situation courtesy of chef Sal Lamboglia and that New York pasta haven Bar Primi.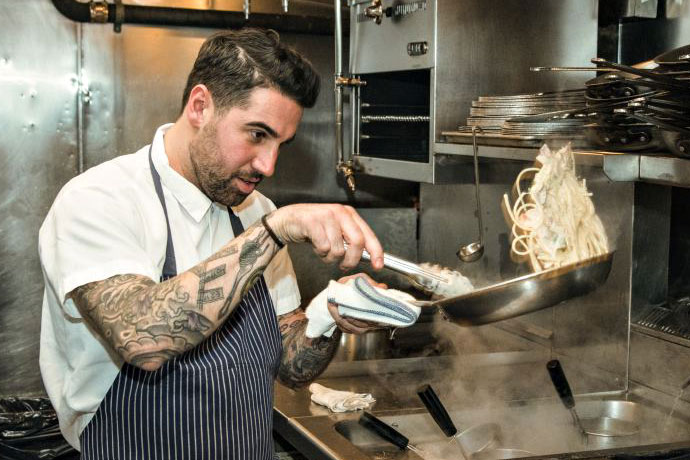 Let's consult the recipe. You'll see that it's combining important morning essentials like bacon and eggs with less common pre-noon fare like spaghetti and kale. To make it, boil that pasta. While it's cooking, start rendering the bacon in a pan until crispy. Add cream to the leftover bacon fat, combine all that with your pasta, plus kale and whisked egg yolks, until everything is coated with a nice sauce. Top it with black pepper, parmesan cheese and a poached egg, and there you have it: an eye-opening breakfast to get you through the day.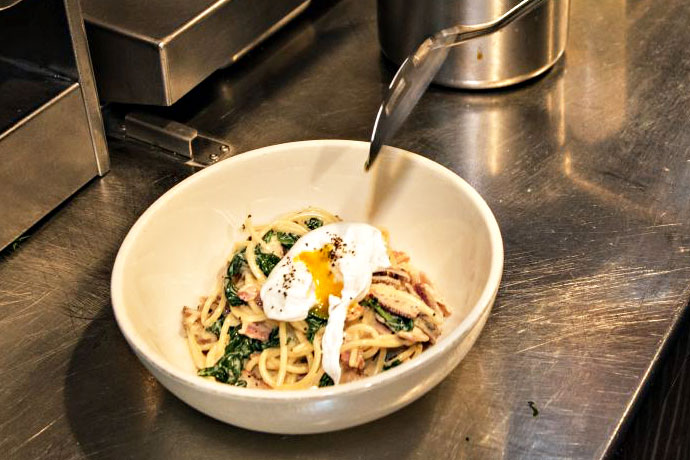 As for the scientific reasons behind this particular combination, Chef Lamboglia said: "A savory, creamy pasta combined with bacon, eggs and cheese is the kind of dish you start dreaming about while you're still out the night before. What else could you (and your hangover) need?"
Truer words about breakfast spaghetti have never been spoken.
This article was originally published on January 6, 2017.