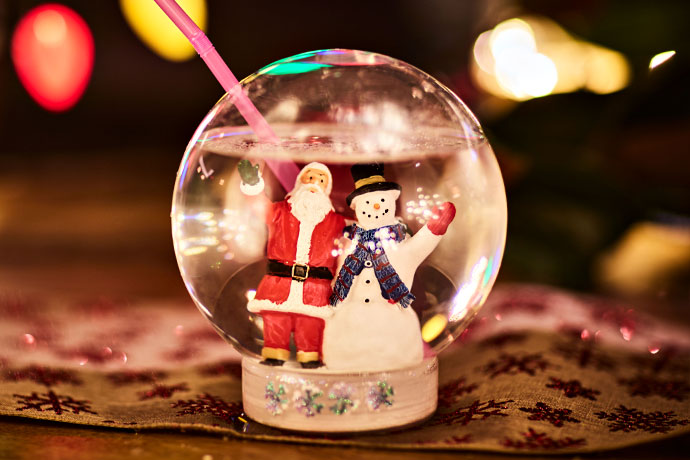 If your Aunt Sylvia gives you another snow globe this year, don't just stuff it into some closet with the rest.

Drink from it.

But first, repurpose it into a cozy new house for cocktails to be sipped throughout the holidays, into the new year and anytime you need a little cheering up via the combined power of Santa Claus, a scarf-clad snowman and gin.

The creation you see here comes from barkeep Cody Goldstein. You can find him in New York at the NYLO hotel's LOCL bar, where he's mixing gin with pine liqueur and root beer seltzer for the general enjoyment of all who enter. Go check it out. Or just make it for yourself by emptying out your nearest snow globe, boring a hole in the top for a straw and following these simple instructions...

Shakespeare's Globe

2 oz Four Pillars Gin
1/2 oz vanilla syrup
1/2 oz Douglas fir liqueur
1/4 oz Cointreau
5 oz root beer seltzer

Shake gin, vanilla syrup, Douglas fir liqueur and Cointreau with ice for five seconds. Double-strain into your snow globe and fill with root beer seltzer. Garnish with some edible disco glitter, if you've got some, and serve with a straw.