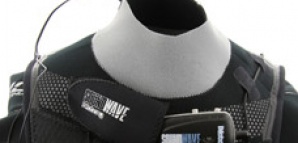 Theme music—every great surfer needs some. And fortunately, now you can match your tunes to your tube riding.
Following the genius trend of pairing
sports gear with music
, Billabong has just released a wetsuit with an embedded MP3 player, just in time for...winter.
But don't let that stop you—if the thought of shredding a 10-foot wave in 50 degree water in the Hamptons while seamlessly listening to Milli Vanilli doesn't do it for you, trying out this suit is probably worth packing your bags for a trip to warmer climes.
Billabong's new
Solution Platinum Soundwave
wetsuit comes with a waterproof and removable MP3 player that has 512 MB of storage space (about 160 songs) and headphones wired into the full suit (so that it doesn't get in the way of aforementioned moves). Lined with stretchy Platinum Airlite material, the suit is light as a feather and warm as fur, which helps maximize your water time and minimize any burns. And stoked out with 40 hours of playtime on the MP3 player, you'll finally get to mount those glassy waves, or scuba dive, or water-ski to the soundtrack from Point Break (Patrick Swayze zen-master attitude not included).
Just remember—listening to Laird Hamilton's personal playlist doesn't mean you can pull off his tow-in.