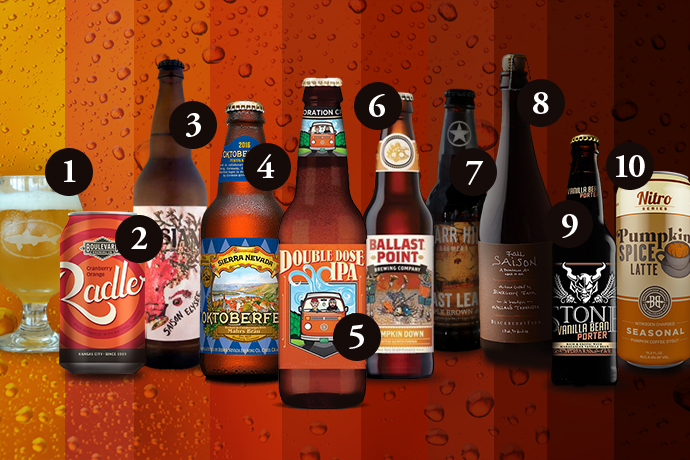 Another fall, another chance to pop open a slew of new seasonal beers. And while such beers usually land somewhere in the range of amber to more amber to most amber, this year we've got a full spectrum for your consideration.

We even made you a visual guide to navigating this important field. We're calling it the Fall Beer Color Spectrum because that's what it is.

Okay, proceed.

1. Dogfish Head Fall on Me: We'll start with a Belgian-style farmhouse ale that's brewed with a bunch of apple cider and mulling spices. Because it's the lightest in color, and that's how this works.

2. Boulevard Cranberry Orange Radler: Sweet blood oranges and tart cranberries combine for a sessionable quality that's often absent from fall beers.

3. Elysian Saison Elysee: Munich malts, Czech hops and cumin. That's either the recipe for a weird chili, or three tenets of this beer.

4. Sierra Nevada Oktoberfest: Each year, these guys partner with a different German brewer to concoct a new Oktoberfest. This year it's Mahr's Bräu, and we get a beer with rich malts, spicy hops, pretty colors and other positive attributes.

5. Otter Creek Double Dose IPA: This Vermont collaboration between Otter Creek and Lawson's Finest Liquids results in a refreshingly bitter IPA with lots of grapefruit and pine.

6. Ballast Point Pumpkin Down: Ballast Point's regular Piper Down Scottish Ale is reimagined, as here it gets the roasted pumpkin treatment to become what we have before us. Which is a beer loaded with flavors of caramel, toffee and orange gourd.

7. Starr Hill Last Leaf Maple Brown Ale: This classic English brown ale gets an extra dash of flavor via some real maple syrup. So the name seems spot-on.

8. Blackberry Farm Fall Saison: This farmhouse ale is full of roasted malts and earthy spices. They recommend pairing it with game meats, nutty cheese and rye bread. No arguments here.

9. Stone Vanilla Bean Porter: A soft and silky porter that's sporting plenty of Madagascar vanilla bean, plus notes of chocolate and coffee. Drink it after dinner. Or as your dinner.

10. Breckenridge Nitro Pumpkin Spice Latte: Your average pumpkin spice latte: disappointing. Sickeningly sweet. Probably a Snapchat filter. But this... this is a much appreciated take on the ubiquitous PSL that's actually a nitro stout made with dark roasted malts, coffee beans, vanilla, cinnamon, nutmeg, cloves and pumpkin.