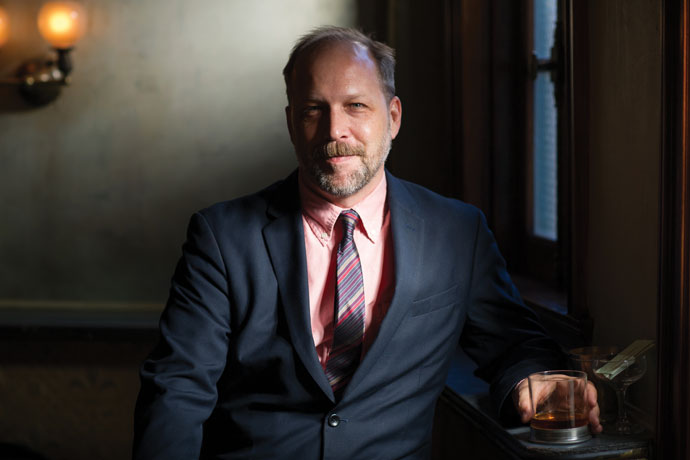 Robert Simonson is the much-decorated drinks writer for
The New York Times
. That's him above. And last week saw the release of his new book,
A Proper Drink
, which relays the untold tale of how we all came to live in the golden era of cocktails. God's work if ever there was.
Recently I sat down with Robert at a Brooklyn coffee bar—both wishing a real bar was open—to discuss history, the mixology revival and... TGI Fridays. Here's what I learned:
HISTORY LESSONS
We didn't always live in such a glorious drinking period.
"Cocktail drinking wasn't such a pleasant experience in the '70s and '80s. The drinks were silly or sweet or not very expertly made or made with poor ingredients. The classics had been forgotten, so the bartenders didn't know how to make them anymore."
Be grateful for TGI Fridays.
"We all think of TGI Fridays as a crappy place with lousy drinks. But once upon a time, the original TGI Fridays here in New York (opened in 1965) kicked off the singles bar movement where men and women could meet and hook up. Before that there weren't many places where women could drink. So they made a big deal out of their bartenders and their cocktails, and their bartenders actually had a rigorous training program once upon a time."
Restaurateur Joe Baum wanted something new (old) for the famed Rainbow Room.
"Here in New York, there was a guy named Dale DeGroff who was hired to be the bartender at the Rainbow Room in the late '80s. And he was given a mission to create a classic craft cocktail bar program, with quality ingredients and fresh juice instead of sour mix. And he brought back all of these forgotten cocktails."
Meanwhile, in London...
"A guy named Dick Bradsell rediscovered cocktails on his own and started reading the old books. A lot of these early pioneers were collectors. You had to go to used bookstores. You had to go to flea markets. You'd go on eBay, and you'd try to find these lost manuscripts and decipher what was meant and make lots of mistakes along the way until you figured out, 'Oh, this is what the cocktail used to be.'"
They had it even worse.
"Bradsell was working for a series of private clubs, which started to pop up in London in the mid-'80s. At the time, London had very limited drinking options. You could either go to a pub, which closed at 11, or you could go to a hotel bar. Those were stuffy and full of tourists. And then there were lots of illegal bars, and those were dangerous. And so, in the mid-'80s, young people started opening private clubs where you could become a member, and you could go to the Zanzibar or Fred's Club and actually have a good drink, and the place didn't close until 4am. And it was also exciting—full of music and young people. Lots of cocaine, too."
OPINING
There are things that separate a good cocktail from a great one.
"You might have to put it down to something like magic or fairy dust, because quite honestly, there are some bartenders who are more talented than others. You're not quite sure why, but you know that if you order the same cocktail from bartender A and bartender B, the one from bartender A will be that much better. They just have the technique. They make it sing."
Take Milk & Honey...
"The thing about Milk & Honey cocktails is that they were all perfectly balanced and precise, and there was no... you couldn't find an error. I miss that. You can still find it at the Milk & Honey–type bars that he put out there. Like, we go to Attaboy and you'll still get that kind of level. Otherwise it is hard to find. And I don't know exactly what it is. It must be nine or 10 things that make it that perfect."
There are some positive trends happening.
"The community continues to expand. There are more cocktail bars in the small markets, the secondary markets, so that wherever you travel, you have a few options, so that's good. There's been a return to hospitality, where the bartenders remember that they have to make good drinks yet they also have to be good hosts, so that's always welcome. I like that tiki's come back. I like a good tiki bar every now and then. And I also like that there are a lot of cocktail books now. We have lots of resources, and they're not all out of print."
But be leery of sellout culture.
"The big liquor brands have been part of the revival from the very beginning. They provide money to fund these events, but I sort of feel like they've gotten their hooks in too deeply at this point. It's a lot of selling out on the parts of bartenders. I'm sorry, but that's what it is. And though it's hard to fault them for it, because everybody wants a career. A good career. There's so much careerism in the bartending world that you rarely see a lot of the top bartenders behind bars anymore. They're always traveling or judging a competition or doing a brand event, and when it comes down to it, bartending means you're tending bar. If you're doing other things, then you're a bar professional, a bar entrepreneur, a bar something, but you're not a bartender. So I would like to see more bartending from the bartenders."
We should all be drinking more apple brandy.
"Everyone knows about it and there are a few drinks that people do, but it's really a lot more versatile than people think. You can take most any traditional brown spirit cocktail and sub it in there, and you'll probably get something interesting. I don't think it's underused among bartenders, but maybe among consumers. They don't think about it."
PERSONAL NOTES
When it comes to New York bartenders, he's a Brooklyn fan.
"I like Phil Ward. He is a genuine personality, and cranky, but once you get to know him, he warms up and his cocktails are perfect. Ivy Mix over at Leyenda has a wonderful, warm personality. Once she's at her bar, it brightens up the atmosphere and the cocktails are delicious. Lately I've been admiring the talents of a man named Will Elliott who's a bartender at Sauvage and Maison Premiere. He has a really creative way with a martini. He knows how to do interesting things with classics. He can do a martini that's slightly different but still recognizable. It's really hard to reinvent the martini at this point."
Writers make the best drinking buddies.
"I think everybody always says Hemingway or Kerouac. I think the answers are pretty predictable. I don't know. I wouldn't want to go drinking with Hemingway because he was a big drunk and I'm sure it got messy very quickly. Same with Kerouac. I think I'd probably pick F. Scott Fitzgerald. He's my favorite writer and it'd be nice to meet him and see what his personality was actually like. I think it would be nice to meet one of the old-time saloon owners that are kind of legendary now. Ever heard of Toots Shor? It'd be cool to drink with him. I bet he'd be a lot of fun. And maybe someone like Pete Hamill, who's still alive. Let's throw a living one in there. The problem with Pete Hamill is that he quit drinking 40 years ago. So you could throw someone else in there like Joseph Mitchell. No, A.J. Liebling is one of my favorite journalists of all time, and he loved to eat and drink until the very end, and that's probably why he died when he was 61 or something like that." [He died at 59.]
On his deathbed, he's sipping an Old Fashioned.
"Because it's delicious, it's dependable, and I don't know who's going to be making my last drink. But if I did know, I'd probably have Dale DeGroff make it. Not because I like the way he makes Old Fashioneds—he still makes them with the muddled fruit, and I don't like that—but because Dale is always good company. He has a story, he has a smile, he's happy to be alive. So if it's my last drink, I think it's more about who you're sharing it with than what's in the glass."
PRO TIPS
When in New York...
"I like Long Island Bar and Clover Club. I tend to go back to the older places because they're very dependable. Pegu Club, Death & Co and Maison Premiere are wonderful. There's such a wealth of choices at this point. If I just want a beer or atmosphere, I go to older bars like McSorley's or Old Town Bar. Sometimes if I want to splash out on an old-fashioned kind of fancy New York experience, I go to Bemelmans at the Carlyle or 21 Club. There's a bar for every occasion."
When not...
"New Orleans, no question. Now they've got the traditional bars and they have the new bars. They've got the history, and it's a serious drinking city. They think and have always thought it's a contributing part of a good life."
When drinking is your profession, you adjust your schedule accordingly.
"I go early so I can get out when it gets really noisy and boisterous. I go in the early hours. And when I'm working, I go alone because then I can hit more bars in a short period of time. When I'm with someone else, I'll probably go later because I'm there to socialize with that particular person."
THE BOOK

The cocktail movement needed to be recorded.
"I just hope I did a good job and that not too many people get mad at me. But I really did feel that the movement deserved an accounting because I thought it was entirely possible—I mean, the movement wasn't going to stop—but give it another 10 years and everybody would have forgotten how it happened. And it's like, 'Oh, it was always like this, right?' But it wasn't, so it's good to give credit where credit is due."