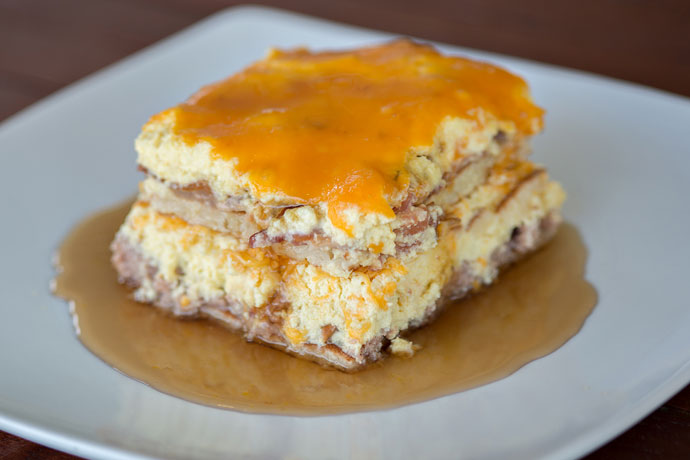 The wheel. Gutenberg's printing press. The steam turbine.
Pancake lasagna...
We don't know for sure which will be considered human history's most significant invention, but our money's on that last one.
It comes from LA chef Eric Greenspan, who concocted said pancake lasagna for the most noble of all causes: to cure our hangovers.
He's the kind of guy you trust with such matters, and he even let us into his kitchen at the Roof on Wilshire to demonstrate how the dish comes together.
Otherwise, we're not sure we'd have believed it either.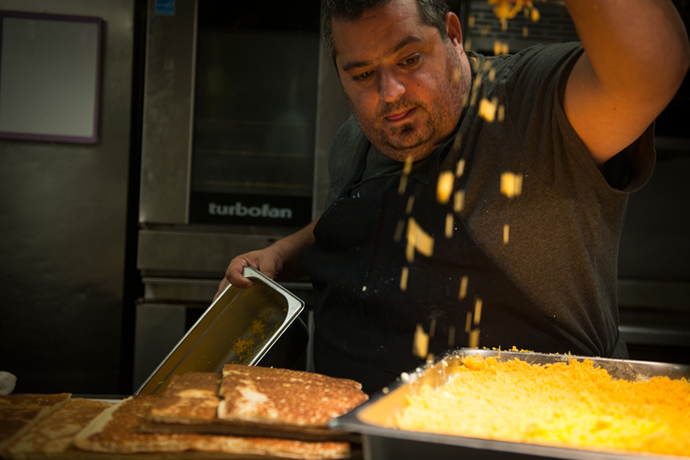 About the origins of the dish, the chef says: "The pancake lasagna actually started as a preemptive strike against hangovers. A primer, if you will. Think me, 10 homies, NFL tickets and tons of booze. Pancake lasagna before kickoff and nothing can stop you the rest of the day."
The dish consists of layers of pancakes, sausage, eggs, cheese and bacon with maple béchamel in between. So, yeah, that sounds about right.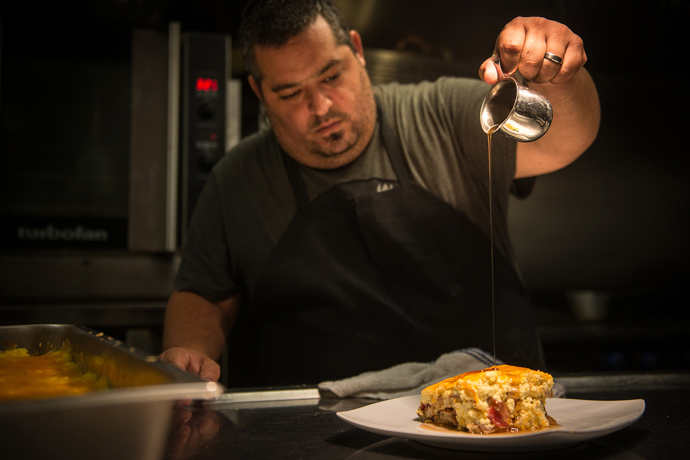 Now, to make this for yourself—or some kind of personalized version of it—start by lining the bottom of a buttered casserole dish with a single layer of pancakes. Spread that maple béchamel sauce everywhere (it's like regular béchamel sauce, but with maple syrup and bacon fat in it, naturally), then add chopped sausage and fluffy eggs. Add more béchamel and a liberal dose of shredded cheese. Then comes another layer of pancakes. This time, you're adding bacon strips, more béchamel and more eggs. Finish by covering the whole thing with more cheese, and bake it until the cheese has melted and begun to get crispy.
Then just cut it up, distribute portions to anyone in need, serve with maple syrup and take a moment to recognize your contribution to society.
We were naturally curious about the chemical reaction that endows this dish with its hangover-zapping efficacy. Greenspan explains, "Dude, it's got pancakes, sausage, bacon, eggs and cheese. And syrup. What more do you want for a hangover?"
Maybe just a fork.