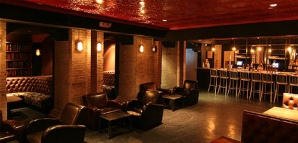 A good liquor license is hard to find.
Throw in a minor battle with major NYC nightlife players (
Scott Sartiano
, Nur Khan and
Serge Becker
) over said license, and you've got yourself a hell of an opening story.
Hence
Bar Martignetti
, an easygoing, anti-PR neighborhood spot resting on the last liquor license in SoHo, opening this weekend.
The Martignetti brothers wanted a place to hang out with their friends and likeminded ne'er-do-wells—hence a low-key triangle shaped slice with treated mirrors, a black tile floor and chocolate leather booths, which lend the place an old-school city apothecary vibe. The food is Franco-American bistro fare, like Moule frites, steak frites and frite frites (ok, we made that one up). It all goes down nicely with classic cocktails like Sidecars, Gibsons and Southsides.
With their booze-soaked pedigree (they own LES bar Martignetti's Liquor Store) and booze-soaked family business (Martignetti's Liquors in Boston), the liquor license couldn't have landed in better hands.
Witness an added bonus: you're the first to know about their additional hush-hush downstairs bar
The Belgrade
, opening next week. Set up to feel like an old expat spy hangout, a separate entrance on Cleveland Place leads down to a basement with a red tin ceiling, red painted brick walls, private leather booths backed by a wall of books, and a few backgammon tables (spies love backgammon). A full bar and classic rock music set the tone, and next month a private 20-person room will open with self-serve top shelf liquor (yes, you read right:
self-serve top shelf
).
Thanks, Martignetti Brothers...you do a liquor license proud.