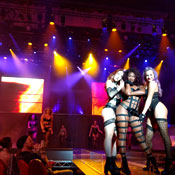 SHOW OFF
Two New Shows. One About Love. One About Lust.
Today on the New Vegas Show Showdown (working title)...

Baz: A high-energy cabaret highlighting romances from the world of Baz Luhrmann (think: Moulin Rouge, The Great Gatsby...).
vs.
Cherry Boom Boom: A super-sexy classic rock revue/go-go-dancing hybrid.

And the winner is... you. It's always you.