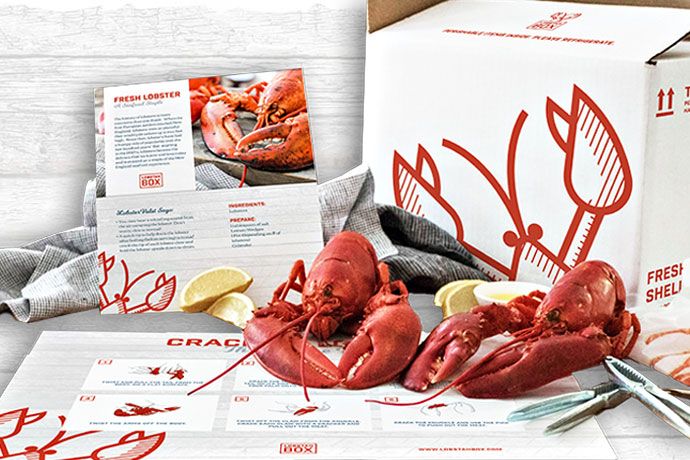 There's more than one way to get a lobster. So here are four:

1. Fish one out of the tank at your local seafood store.

2. Say the words "I'll have the surf and turf" to your nearest waiter.

3. Own a boat, put on some rubber overalls and set traps off the coast of New England.

4. Check your mail.

All good options. But when it's the final minutes of a tight game or you're getting reacquainted with your couch, it's sometimes best to let the lobsters come to you. So let's hear more about that last one.

LobstahBox is a new operation that's fun to say, sure, but more importantly, it's overnighting you fresh, wild-caught lobsters from off the coast of Maine. It's online now and ready to feed you.

The lobsters themselves come from a family-owned company that's been fishing off the coast of Maine for more than 25 years. So that's a good start. And getting those lobsters sent directly to you is your chance at enjoying a piece of New England from wherever you call home. Maybe even New England.

With your newfound lobsters in hand, you could host an elaborate dinner party for friends or throw a casual lobster boil in your backyard. Or if you know someone else who might enjoy doing those things, send a gift to that crustacean-loving pal.

Here's what you can get:

—The eponymous LobstahBox, which is a well-named box containing enough lobsters, bibs, tools and wet-naps to appease a room full of hungry people. Plus a step-by-step guide to cooking the things, and even a few placemats with tips for how to properly eat a lobster.

—However many pounds you want of fresh claw, knuckle and tail meat.

—A set of lobster rolls for people who prefer their lobsters between bread.

—Twenty-four ounces' worth of lobster bisque or clam chowder for a little predinner snack.

—A handy toolkit comprised of a steel cracker and pick to assist you in getting to the good stuff.

—A blueberry pie.

What, everyone likes pie.