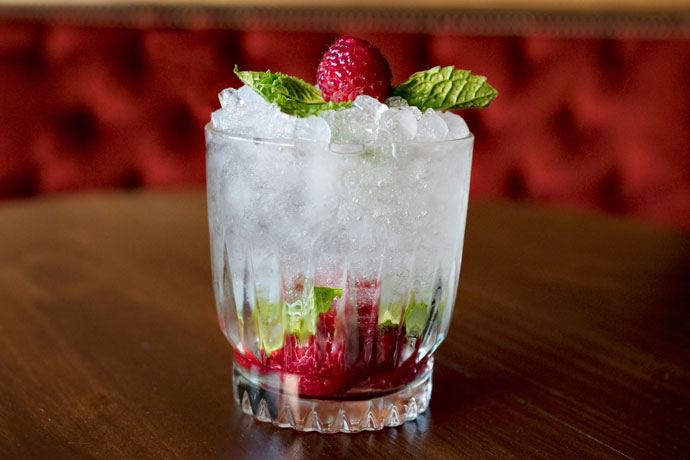 From the visionary director who brought you
Traffic
...
And
Ocean's Eleven
through
Thirteen
...
And a hell of a lot of other movies...
Comes your next drink.
It's a Date With Destinee, a cocktail made by bartender Destinee Almonte at Hollywood's
No Vacancy
.
And it's got more pull than most of the people in that town, actually.
The lead ingredient just happens to be Singani 63, a label privately funded by Steven Soderbergh. Singani is a spirit made in the Andes from Alexandrian Muscat grapes descended from vines brought to Bolivia by Spanish missionaries. If you didn't already know that.
Soderbergh was given a bottle while filming Che, went on to drink a shitload of it, began importing it into the U.S., and eventually made
Magic Mike
and
Magic Mike: XXL
.
Somewhere in there is a lesson to be learned.
But in the meantime, here's the recipe.

Drink with Destinee
2 oz Singani 63
1/2 oz dry curaçao
1/4 oz simple syrup
2 dashes yuzu bitters
4 mint leaves
4 raspberries
Lightly muddle 3 raspberries in the bottom of a rocks glass. Place 3 mint leaves over the raspberries, and add crushed ice. Fill a shaker with remaining liquid ingredients and shake with ice. Strain into your glass, top with club soda and garnish with remaining raspberry and mint.