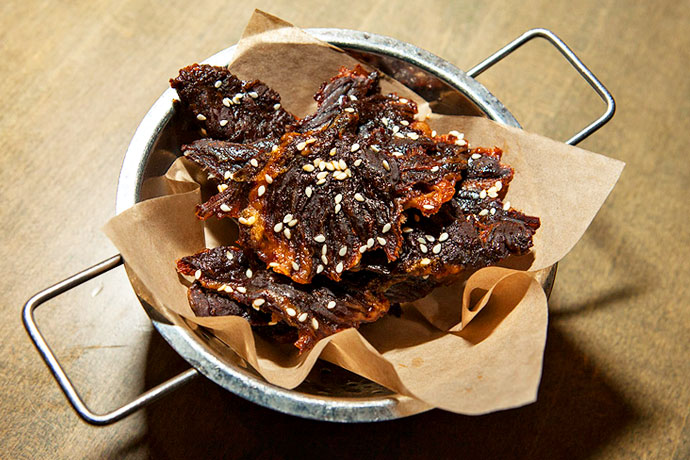 On your summer road trip checklist:
—Water bottle
—Music
—Companion
—Big bag of beef jerky
But not just any big bag of beef jerky...
We're talking about the batch of actually great, Korean jerky you'll be making at home with some help from chef Evan Packer, whom we've enlisted to shore up your mobile snacking arsenal.
Along with Kevin Hickey and his team at
Bottlefork
, Packer's been inventively fine-tuning otherwise lackluster foods (à la fancy pimento tots and "popcorn sweetbreads") for some time now. So you should heed his sage jerky advice when he tells you to always use a lean cut of "choice" meat, as "prime" will be a waste of money here.
To marinate your jerky for at least 24 hours...
To let it fully cool at room temperature...
To... kindly follow the rest of these instructions.
Korean Beef Jerky
3 lbs skirt steak (will yield roughly 1-1.5 lbs of jerky)
Sesame seeds (to taste)
Marinade*
Cut skirt steak against the grain into 1/4- to 1/8-inch-thick slices. With a mallet, pound each piece thin and marinate for approximately 24 hours. Remove from marinade and shake off excess. Place on baking sheets lined with nonstick sprayed aluminum foil in an oven at 160 degrees (or at its lowest setting with the door slightly cracked) for six to eight hours. Allow the jerky to cool at room temperature (for four to five days, if necessary) before storing in an airtight container or bag. Sprinkle with sesame seeds and enjoy.
*Marinade
2 cups soy sauce
3 tbsp Korean red pepper paste
2 tbsp onion powder
1 tbsp garlic powder
1 tbsp cumin
2 tbsp smoked paprika
2 tbsp freshly grated ginger
5 tbsp honey
20 oz Dr Pepper
4 sheets gelatin

In a pot, combine the soy sauce, spices, honey and Dr Pepper. Bring to a boil and then remove from heat. In a separate bowl, bloom the sheets of gelatin in cold water. Place the bloomed gelatin into the marinade mixture and stir to completely dissolve. Note: the marinade must be cooled completely before use.