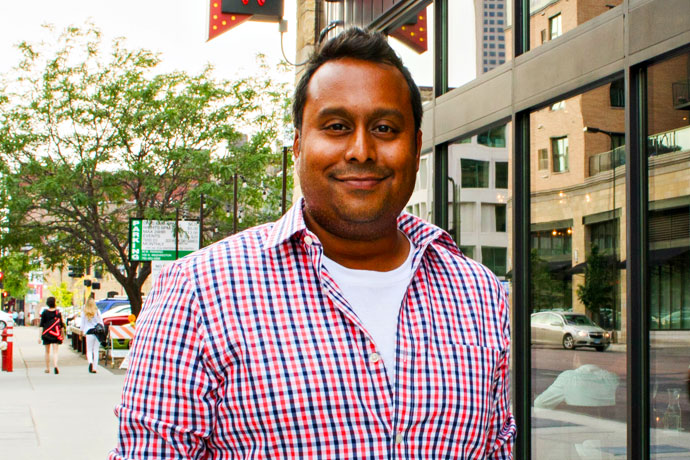 There's this guy. Name's Ali Khan. A food writer, burger blogger and all-around hungry person.

And now, with a new show on the Cooking Channel called
Cheap Eats
, he's a guy who goes around the country looking for the best possible provisions to put in your mouth without needing to pawn your grandfather's watch.

So we sat down with the man himself for some questions, some answers and some very important burger-related intelligence.
Congrats on the new show. What can people expect when they watch it?
Thanks, this has been a dream of mine for 12 years now and it is truly amazing to be living one's dream. As far as what to expect: guilty pleasures, iconic eats and true local haunts at everyday prices, plus fun chefs, off-the-beaten-path finds, laughs and lip smacking—on the part of the host and the audience.
Where will your travels take you throughout the season?
We started things off in Austin, then Albuquerque, and now Miami, Chicago, Charleston and Boulder.
Got a favorite eating city out of the above? How about in general—best food town in the country?
It's always a controversial statement because A) every great food city has a weakness when compared to any other, and B) we are in a food renaissance that is in a constant state of flux. Great sous-chefs who have been running big-name joints find themselves not only wanting to start out on their own, but maybe somewhere else besides NYC/SF/LA/Chicago. So many smaller cities are showing off exciting new restaurants, like Nashville (old news, I know). But I am avoiding answering your question, so I'll just answer it: Chicago. That town has a long-standing food culture built on diversity and hearty fare, and a populace that enjoys all levels of dining.
On your show, you're eating on just $35 a day. Strategically speaking, should one spread that out equally or throw more cash toward a particular meal?
Dinner. Think about it: restaurants often feature the same items on lunch menus as dinners menus, and while portion sizes can fluctuate, the prices jump when the sun goes down.
We hope you get a separate budget for drinks... Now, what are some foods to look for that are typically inexpensive and also delicious?
In a word: ethnic. Taco stands were my salvation when I lived in LA, and I keep that tradition alive here in Austin—though I dropped a jaw when I got here because tacos are like double what they cost in LA (though more substantial and with quality upgrades like made-from-scratch tortillas). Vietnamese is notoriously cheap, and ramen joints, even the fancy ones, still barely crack $10 (minus the Sapporo, of course). Falafel joints with the occasional shawarma/gyro sprinkled in are always a best friend. All-you-can-eat Korean BBQ offers some value as well, and Ethiopian works, too. Back to classic American: not every town does 'em like they should, but the almighty hot dog stand can deliver a fine workingman's supper.
But what if you're not on a budget? What's a good way to blow, say, $350?
Sushi, by a mile. And it's my wife's favorite. She would eat Jiro Ono in one bite if he was topped with Santa Barbara sea urchin and a quail egg.
Metaphorical gun to your head: do you prefer an amazing burger or fine dining?
Fine dining. I thought for a while about this, and though my lens is focused on cheap eats, important factors I look for start with what's going on at the top of the game. One of our goals is to, whenever possible, find folks with fine-dining credentials who are offering an experience at our price point. For the record, what I care about most when it comes to fine dining is experiencing a chef performing as an artist. An elegant dining room is nice, but I'm in it for the creativity and inspiration on the plate.
What qualities do you look for when evaluating burgers?
Does the place cook their burger to temperature? And if not, why? I grew up on flat stacked griddled burgers and I understand why those are cooked through, but what's Fatburger's excuse? (I do enjoy a Fatburger every now and then, but that's more about the toppings.) If it's over $7, I want to see a true concept—don't go to that price point and ask me what I want for toppings—you should have figured that out. This goes double for the $10-and-above club. Lately I have been finding spots whose beautiful burger aroma becomes detectable once I enter the parking lot. And a grizzled griddle always raises a positive brow.
Five of your favorite burger spots in the country... go:
1. Belcampo Meat Co. (LA and San Francisco):
Get the Double Fast Burger, medium rare. I think it's the best bang for your burger buck in Los Angeles, maybe the country.
2. Carl's Drive In (St. Louis):
They do a smashed burger that resembles a crepe but remains redolent with beefy goodness—probably due to some Maillard reaction, but you might want to double check with Alton Brown on all that, because I got a C- in chemistry.
3. P. Terry's (Austin):
It's like In-N-Out but better and just as cheap. Even though a perfect homemade burger is a thick medium-rare eight-ounce affair, there is something about a drive-in-style double cheeseburger that screams "classic burger experience."
4. Father's Office (LA):
This is for selfish reasons. The FO burger was the first chef-driven burger I ever had. I never knew how well blue cheese and beef could play together. And it was the first gastropub I went to, and it fit my price point for multiple visits. Many fond memories there.
5. Corner Bistro (NYC):
There are a few dark, old-school burger joints that come to mind (O'Connell's in St. Louis, Matt's Bar in Minneapolis), but Corner Bistro makes a burger worth making a schlep to NYC for, and you could take your grandpa who served in the Navy and tells awesome stories over whiskey there. I first went back in 2003 on a late afternoon, and when I found they were open until like 3 or 4am, I went back after a long evening (hey, I was 26). But, yeah, I had it twice in 12 hours. It was
that
good.
Do you ever just, like, really want a salad?
A Tableside Caesar at Dan Tana's in LA if you're buying! Believe it or not, I do enjoy vegetables. I love lentils like any good son or daughter of South Asian immigrants should. I'm a major savory eater, but vegetables and salads often fall onto my plate when paired with savory proteins. Frisée with lardon and poached egg? Yes, please. I found a killer Cobb salad five minutes from my house that's my green guilty pleasure. And one of my favorite sides to make is Tuscan kale sautéed with garlic and cannellini beans—often served with roast lamb, pork or tuna steaks, but fine on its own.
Describe the food scene in your current hometown of Austin without using the words "breakfast" or "taco."
Fair warning, I have only been an Austinite for nine months, so calling Austin my "hometown" is a work in progress, but it's getting there. Austin is a foodie theme park. Expect pricey parking, long lines and edible moments that you will remember forever because you Instagrammed the hell out of them. For a metropolitan area of two million, there is food here to impress die-hard food fanatics from NYC, SF, Chicago, etc. And even if I can't mention that B word, I'll mention this one: brisket. There is fine Texas BBQ here—mind you, I still haven't been to the town of Lockhart, where it really goes down, but the moment we decided we would move to Austin after a 20-year stint in LA was over a plate of brisket at La Barbecue, a celebrated BBQ trailer in East Austin. I have eaten a lot of great meals, but often they are delicious imports like sushi and tacos in LA, gyros in Chicago, etc. To eat BBQ in Austin is to stand on a part of the planet that exists solely to make the food you are eating. That's an amazing thing.