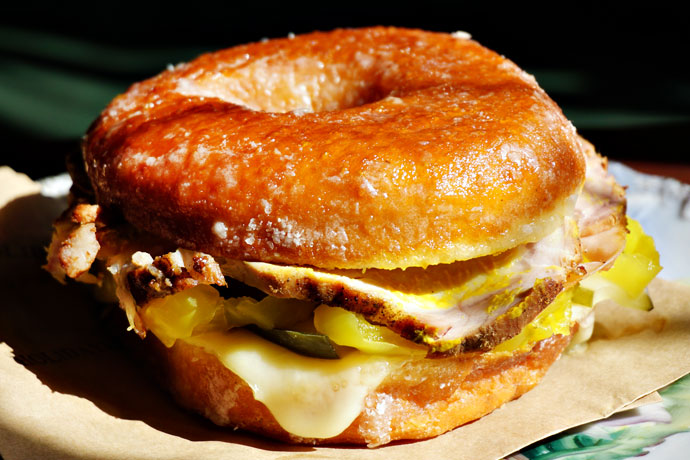 "No, I don't want a Cubano sandwich on a donut." —A lunatic

Fine, a non-vegetarian, non-vegan lunatic.

For the rest, here's a Cubano Donut, now available at Holiday Cocktail Lounge.

Holiday is one of those places where there's just nothing not to like. And now, here's this thing that's also... not something not to like. It consists of a glazed, lightly salted donut from Dough, Baczynski ham, house-smoked roast pork, gruyère, pickles, pickled aji, habanero peppers and a caloric intake probably best unexplored.

One other major thing to note: there's now a small, disco-ball-having quasi-chef's-table space in back of the place. It's called Holiday Kitchen, which is truth in advertising if there ever was. There (and in the bar, too), you and a group of friends will watch people do reproductions of King Moy's '80s soy-glazed chicken wings, new productions of red velvet rice crispy treats with cream cheese frosting and a bunch of other new stuff.

We patiently await the pancake Reuben.