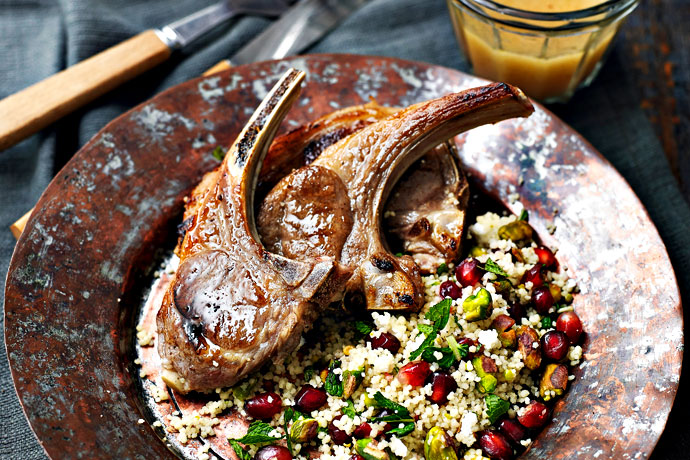 As you engage in playoff watching, springtime grilling and backyard-related activities, we suggest stocking your fridge with some extra beer.

For the obvious reasons mentioned above.

And because now, you'll also be eating it.

For that, you'll want to consult Cooking with Beer, a new book from Mark Dredge that contains all the made-with-beer breakfasts, snacks, entrées and desserts one could ever hope to master. It's available now.

Inside you'll find more than 65 recipes that highlight the versatility of beer—the beverage that's very likely already in your hand as you start cooking. Those range from a Hefeweizen French Toast and Beer Bolognese to the lamb dish below. It employs kriek, a Belgian lambic made with sour cherries. And this is how you'll make it.

Kriek Lamb

1 cup kriek
3 tbsp sugar
3 tbsp salt
12 coriander seeds
1 tsp ground sumac
1/2 tsp ground cinnamon
2 bay leaves
3 garlic cloves, roughly chopped
8-12 lamb cutlets (or 4 lamb leg steaks)

Create a brine for the lamb in a large plastic container with a lid by mixing the beer with all of the ingredients (apart from the lamb). Stir well to dissolve the salt and sugar. Place the lamb in the container and top up with water until it's covered with liquid. Cover and refrigerate for eight to 24 hours. When you're ready to cook, remove the lamb from the brine, dry off any excess liquid with some paper towels and broil (grill) or griddle for a few minutes on each side. Allow to rest for five minutes before serving.

Pair that with the Pomegranate, Pistachio and Goat Cheese Salad you see pictured above (the recipe's in the book) and you've got yourself dinner. And as for what to drink with this dish, the author recommends an oatmeal stout or a milk stout.

What, were you expecting wine?