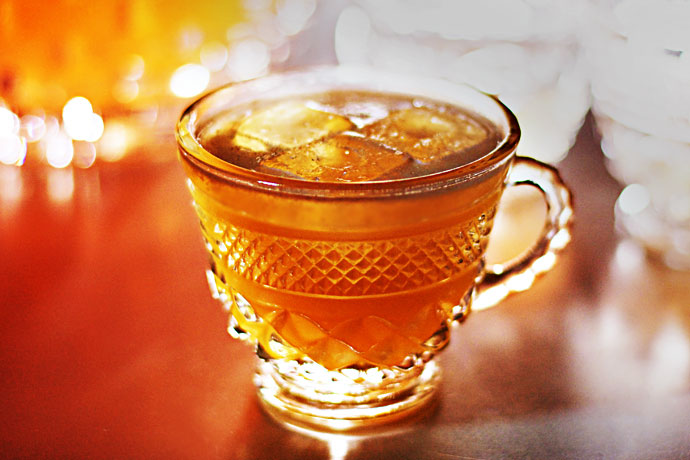 Punch.

Sometimes it gets a bad rap as being just a bunch of different cheap liquors poured indiscriminately into a bowl.

Well... this is not that.

Instead, this is the Violet Hour Punch #2, so named for the eponymous, James Beard Award–winning bar in Chicago from which it was spawned. And in contrast to some lesser punches that may have crossed your lips, it's a very deliberate combination of Jamaican rum, scotch and Rainwater Madeira, with a touch of homemade pineapple-and-yerba-mate syrup.

It can take a little while to make, but the effort's worth it. Still, you might consider forgoing your individual-size portion in favor of a bigger batch. In that case, just multiply everything below by your desired serving size.

Then maybe you invite some friends over and serve them all beers as you hoard the punch for yourself. Or maybe you don't.

Maybe you do, though.

The Violet Hour Punch #2

3/4 oz Hamilton Jamaican Rum
3/4 oz Cutty Sark Prohibition Edition Scotch
3/4 oz Broadbent Rainwater Madeira
3/4 oz lemon juice
3/4 oz pineapple-and-yerba-mate syrup*
1 dash Angostura bitters

Combine all ingredients in a shaker, add ice, shake, strain and pour into a punch mug with fresh ice. Garnish with grated nutmeg. For a bigger batch, multiply measurements by the number you wish to serve.

*Pineapple-and-Yerba-Mate Syrup

2 pineapples
1 cup yerba mate tea
2 star anise pods
1 L brown sugar
1 L white sugar

Thinly slice pineapples and place on a baking sheet. Heat in the oven at 350 degrees for 30 minutes. Meanwhile, steep yerba mate tea in 2 liters of boiling water for 10 minutes. Strain into a saucepan and add heated pineapple slices and star anise pods. Bring to a boil, then add sugar. Bring back to a boil, reduce temperature and simmer for 15 minutes. Cool and refrigerate overnight. Strain when ready.