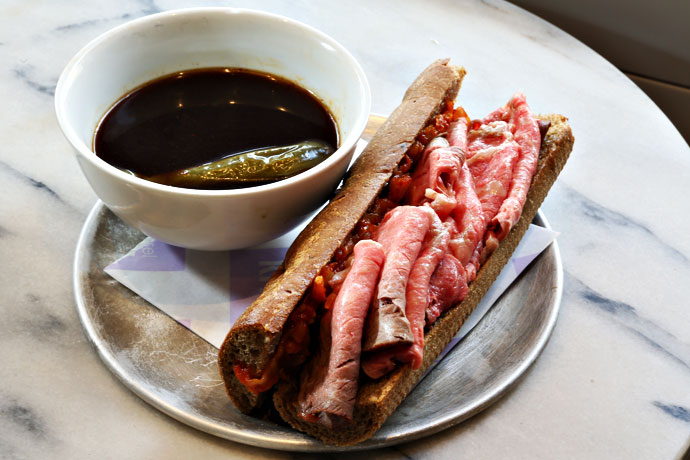 Cronuts. You remember those. You might still be waiting in line for one.
So when the same guy who brought us cronuts, Dominique Ansel, partners with Deuki Hong, the chef behind Korean barbecue joint Kang Ho Dong Baekjeong, on a limited-time-only sandwich, it's wise to sit up and pay attention.
Dubbed the KFD (Korean French dip), this best-of-both-worlds scenario involves slow-roasted prime rib and kimchi-bacon-and-onion marmalade on potato bread. And then there are the dips—a shiitake mushroom kalbi jus or a spicy serrano kalbi jus.
It's available this weekend only at Dominique Ansel Kitchen (
see more on UrbanDaddy New York
), but to extend the shelf life, we asked the coconspirators behind this sandwich to provide us with tips on how to make it.
"I wanted to do a bread that was a nice, beautiful texture with a good consistency for a French dip. I came up with a potato bread flavored with black garlic, which is a traditional ingredient in Korean cuisine. We mixed the black garlic with fresh garlic and butter, which gives it really nice texture and flavor." —Dominique Ansel
"We have a kimchi jam condiment that uses roasted kimchi, caramelized onions and some smoked bacon... and when Chef Ansel tasted it, he said, 'Oh, let's spread it on the bread.' And then for the kalbi jus, we marinate the short rib bones, then roast and make a stock out of them. We use a very traditional process. The flavors are all Korean, though the technique is French. For the meat, we kept it very simple and chose a nice prime rib, since it's the vehicle for all the flavors." —Deuki Hong