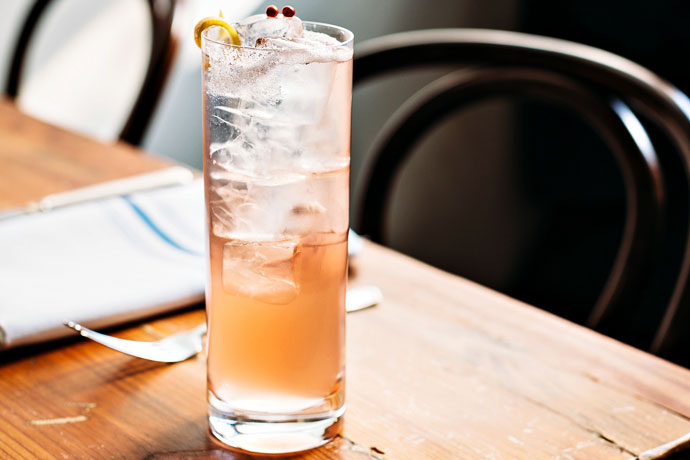 Salt-N-Pepa.
'90s Grammy Award–winning hip-hop icons.
Geico commercial elevator dancers.
And now, a cocktail.
Finally, the recognition they deserve.
See,
Filament
—a Southern-leaning Dallas restaurant with a formidable bar—is slinging a drink called Push It. Named for the Salt-N-Pepa song, this laid-back refreshment is sporting salt and pink peppercorns.
But don't worry, it's also got liquid in it. A healthy dose of gin and Cocchi Rosa, the latter being a pink-hued aperitif that pairs well with long brunches, sunshine and refills.
Now, say you want to try this drink for yourself. That can be arranged, either in person or via the very specific progression of words below.
Push It
1 oz Beefeater 24 Gin
2 oz Cocchi Rosa
1/2 oz pink peppercorn syrup*
1/2 oz fresh lemon juice
Shake all ingredients with ice, then strain over fresh ice into a collins glass with a half-salted rim. Top with club soda and garnish with five pink peppercorns and a lemon twist.
*Pink Peppercorn Syrup
15 g pink peppercorns, finely ground
200 g water
200 g white sugar
Combine all ingredients in a pot. Simmer for 10 minutes, then strain through a fine sieve.