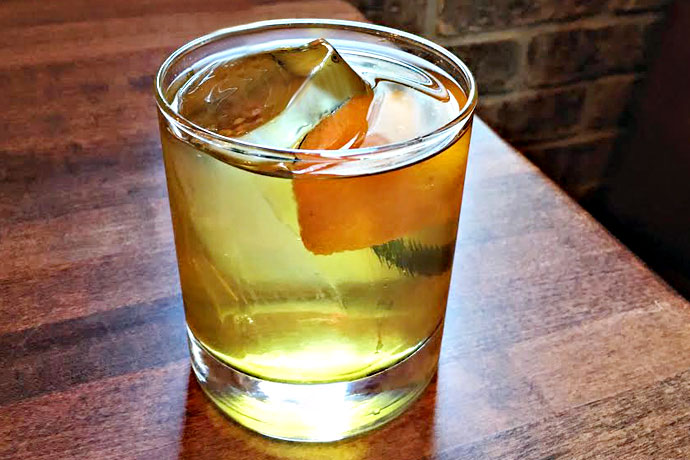 Oh, those Hardy Boys. Always getting into the craziest adventures. Like discovering the Secret of Skull Mountain. Unraveling the Hidden Harbor Mystery. Inspiring a drink made with rye and wormwood-peppermint syrup...

That would be this Hardy Boy, an original concoction by Seth Freidus, bar manager of Alden & Harlow in Cambridge, MA. Its taste includes the spicy kick of rye, the light bitterness of Suze, the earthy funk of wormwood, the sweetness of crème de cacao and the refreshing hint of peppermint. In a word: complex. In two words: quite good.

Now, let's replicate it.

Hardy Boy

1 1/2 oz rye
3/4 oz Suze
1/2 oz wormwood-peppermint syrup*
1/4 oz crème de cacao

Combine ingredients in a mixing glass. Stir with ice and serve in a chilled rocks glass with a large ice cube. Garnish with an orange peel.

*Wormwood-Peppermint Syrup

1/4 cup dried peppermint
1/2 cup wormwood
2 qt water
2 qt sugar

Add dried peppermint and wormwood to hot water and steep for 10 minutes to make tea. Stir in sugar and allow mixture to reach room temperature. Strain through a fine mesh strainer before use. Yields 3 quarts of syrup.