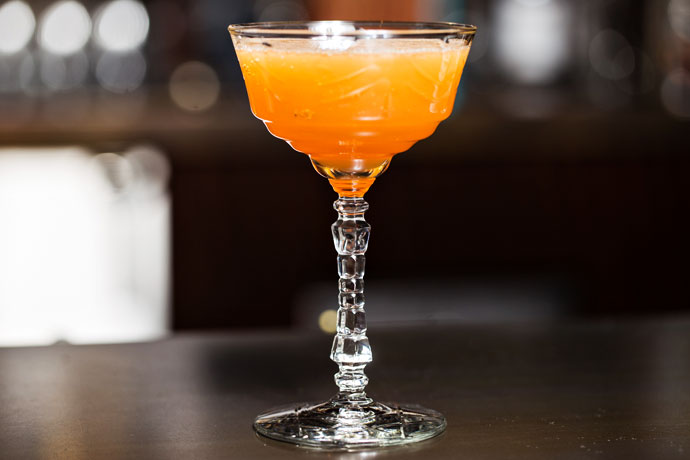 Warning: this cocktail may contain Jäger.
Actually, it most definitely contains Jäger.
But not to worry...
You're in good hands with Chicago's Julia Momose. She's the former head bartender at the Aviary, the current head bartender at
GreenRiver
and the generally clever person responsible for crafting the Drama Queen—a drink made with Jägermeister that tastes decidedly not-gross (read: really good).
You can find this eccentric libation at GreenRiver's just-opened cocktail den,
Annex
. It'll be the tall glass of wintry genever-citrus-and-spice deliciousness at the end of the bar.
We're confident you'll be able to pick her up.
Drama Queen
1 1/2 oz Bols Genever
3/4 oz fresh lime juice
1/2 oz Chinese five spice syrup*
1/4 oz Jägermeister
3 drops salt solution
1 dash Peychaud's bitters
1 tsp Th. Kramers Aromatique

Build the cocktail in a shaker, then shake all ingredients over ice and strain into a coupe glass.
*Chinese Five Spice Syrup
3 tsp Chinese five spice (ground)
2 cups water
1 cup cane sugar (approximately)
Lightly toast the Chinese five spice in a pan over low heat. Add water. Bring to a boil. Turn heat down and simmer for 10 minutes. Strain off. Add an equal amount of cane sugar to the amount of liquid after simmering. Whisk until the sugar is fully dissolved. Store in the fridge.