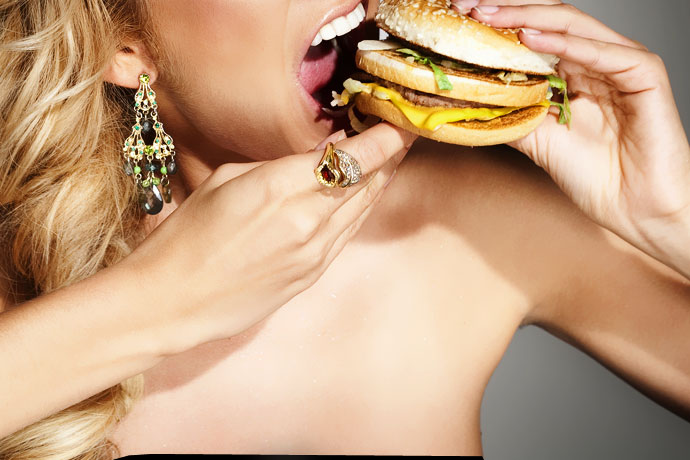 Our man in the trenches, Hadley Tomicki, braved a secret dinner party and lived to tell the tale. This is that tale.

Corporate food concerns are tripping over their giant clown shoes to prove the presence of actual food inside their food products these days. It's getting ridiculous.

Recently, I received a vague invitation for a "culinary exploration" with veteran LA chef Neal Fraser. Two weeks later, I arrived on time (my first mistake) at Carondelet House, an event space neighboring MacArthur Park, where everyone idled by the fireplace in a striking high-arched study, drinks in hand.

Dinner was to start at 7. Somewhere past 8:10pm, at the tipping point of saying "Fuck it" and just grabbing some tacos from the nearest food truck, we were ushered inside the dining room. It held two long tables spread with flowers, micro-citrus, modernized stemware and people who self-identify as "influencers" on their W-9s.

Cameras roiled conspicuously from assorted corners of the room. Microphones, clumsily concealed among the centerpieces, were fished out by the more observant among us. Conversations with tablemates revolved around the same recurrent themes. What was this whole thing all about? Who exactly invited us? Where the hell was something, anything, to eat?

Fraser finally manifested to address the assembled, explaining that he had prepared a five-course dinner, promising that it'd be free of weirdness like "camel meat" and that everything would conclude in an adjoining salon for "group sex." He also assured a big reveal at dinner's end. One he claimed had already taken him by surprise. A revelation that, once exposed, would turn out to be neither as thrilling as camel meat or group sex.

A bowl of chilled avocado soup appeared, bobbing with sour cream "espuma" and tasting like kale, followed by a fresh green salad with buttermilk dressing, garlic croutons and suspiciously bacon-bit-like bacon. Spicy meatballs in a bright-red marinara came next, chased by bacon-wrapped chicken—the poultry looking noticeably reconstituted from something not resembling jidori. Whatever it was, hey, it tasted like chicken. Pretty much.

"I believe the chicken is sous-vide," said a recognizable local cooking school instructor to my better half.

"It tastes like McNuggets," was her reply.

"I'm pretty sure it's sous-vide."

The final blow was a coffee custard we didn't much care for. The berry mash and maple crumble were eerily reminiscent of something you'd find in a certain fast food restaurant's yogurt parfait.

All around us, guesses were attempted as to what surprise lay coiled in wait. Were we on Top Chef? Had we been starring in a Truman Show–style epic our entire lives, which were about to be upturned?

Fraser reappeared and a bomb dropped. The entire meal was made almost entirely from McDonald's ingredients.

Ugh. We just ate McDonald's for dinner. And a whole damned lot of it, too. What a ruse. An elaborate scheme to prove that McDonald's not only serves edible ingredients, but real ones that—when dressed up and meticulously plated—might be mistaken for the kind of food you'd eat on purpose.

Next, a doppelgänger for Mad Men's Duck Phillips took center stage. Hey, everyone, it's Scott Frisbie, a well-scrubbed McDonald's franchisee. In a smooth, ready-for-prime-time rap, he cheerily admitted that McDonald's has a problem. An impression lingers that there's a back channel from the pink slime factory straight into the restaurant's kitchens. The company needed to change its ways, he confessed. But say what you will, this proves the food is real. Or something. Jaws were dropped. Steam billowed from ears. Some just smiled devotedly.

The floor opened to questions. Being an LA crowd, some attendees were ever eager to worm their way into whatever commercial was most likely being shot around us. So they turned on the sunshine.

"When I travel to Japan, I see that McDonald's sells smiles," said one obvious wing nut, expressing esteem for a company that's helping turn Asia as Disney World–fat as its American devotees. Indeed, McDonald's latest introduction to Japan is the very real chocolate-covered fries.

"McDonald's really does have a place in everybody's heart," chirped another. We smelled a plant. Or a rat. Or a creepy redheaded party clown out of costume.

Seeing what a chef of Fraser's caliber could do with commercial feed was interesting. But this was no attempt to inform us about the benefits of a McDonald's diet. Or an elaborate Banksy-esque hoax to reveal the shallow judgments of uninformed diners. Or the fast food equivalent of 1976's Judgment of Paris, revealing McDonald's to be an unfairly scorned Mondavi of the US food industry.

Nope. It was an elaborate marketing scheme and maybe even a commercial. They literally had to trick people who knew better into eating their food. I knew the Hamburglar was corrupt, but figured that McDonald's had some scruples. Okay, maybe hoped is a better word.

So, lesson learned. A great chef and a little fancy tableware can make cheap food resemble fine dining. But I'd still rather eat the release we refused to sign than eat five courses of McDonald's again. Or tacos. I should've gone with tacos.