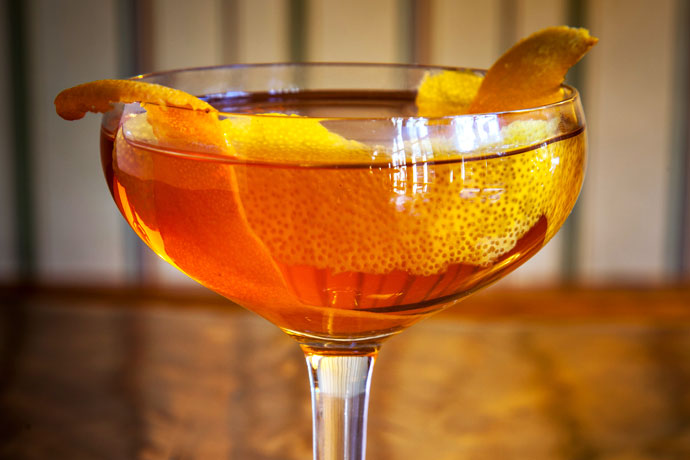 Monte Nido is Spanish for "mountain nest."

(Thanks, Google.)

And it's a fitting name considering that's where you'll find the Monte Nido Jewel cocktail, tucked high away in a Malibu Canyon neighborhood of the same name. And tucked inside Saddle Peak Lodge, an enchanting destination where people have engaged in candlelit dinners of creatively spun game meats under stuffed hunting trophies for at least 100 years.

The restaurant's cocktail program is heavily influenced by drinks concocted between 1880 and 1920. We weren't around then, but we can confirm that the Monte Nido Jewel is a take on the classic Bijou, itself a sort of second cousin to the Negroni. Lacking Campari, the bitterness is subdued, and the herbaceousness and aromatics are amped through a split of absinthe and Chartreuse.

Adam Horton, Saddle Peak's GM and former executive chef, explains: "The original cocktail was named the Bijou because of the three 'gems.' Emerald is the green Chartreuse, diamond the clear gin, and ruby the red sweet vermouth. We just spun the name to our location, Monte Nido, for a light variation of a very classic cocktail."

Nice. Now let's give it a try.

Monte Nido Jewel

1 oz Hendrick's Gin
1 oz Carpano Antica Formula
3/4 oz Green Chartreuse
1/4 oz Mata Hari Absinthe
4 dashes Regans' Orange Bitters No. 6

Combine ingredients in a mixing glass. Stir with ice for 30 seconds. Strain into a coupe glass and add an expressed orange peel for garnish.