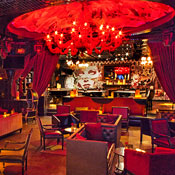 TOUCHDOWN CELEBRATIONS
Two Super Bowl Parties, Two Open Bars
Jim Nantz: Welcome to the Super Bowl Party Super Bowl. We've got a good one.
Phil Simms: That's right. Lavo's doing an Italian buffet with Kobe meatballs. And Tao has that six-foot BBQ pork banh mi, plus pork belly fried rice.
JN: Don't forget about their open bars, Phil.

Classic Nantz.