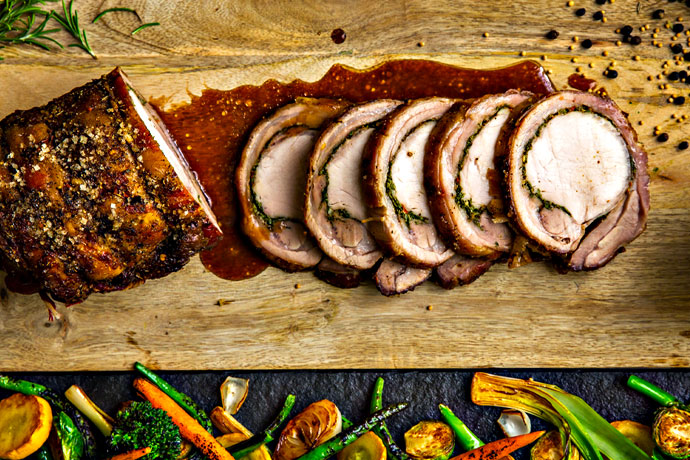 Go ahead, don't be shy.
Take all the time you want to stare longingly at the above.
The above being a fine example of porchetta, the Italian roast pork dish that's arranged just so. You can and should find this particular one at
Harvest
, the new Las Vegas restaurant from chef Roy Ellamar. But in the meantime, we enlisted Chef Roy to instruct us in the art of porchetta via the enticing sentences below. Try not to chip a tooth on your screen.
"To create a great porchetta roast at home, you need to start with the freshest pork you can buy. If you have access to local, organic or heritage-breed pork, you are already two steps in the right direction. Second, it needs to be well-seasoned. Remember, you are cooking a large muscle of meat, so you want the seasoning to permeate throughout the entire product. At Harvest, we wrap pork belly around the loin, roll it, tie it and slather it with herbs including crushed garlic, olive oil, sea salt and cracked pepper. Lastly, slowly roast the pork at 350 degrees for an hour per two pounds or until a thermometer reads 140 degrees, and then let it rest under foil for 20 minutes before untying, slicing and serving."