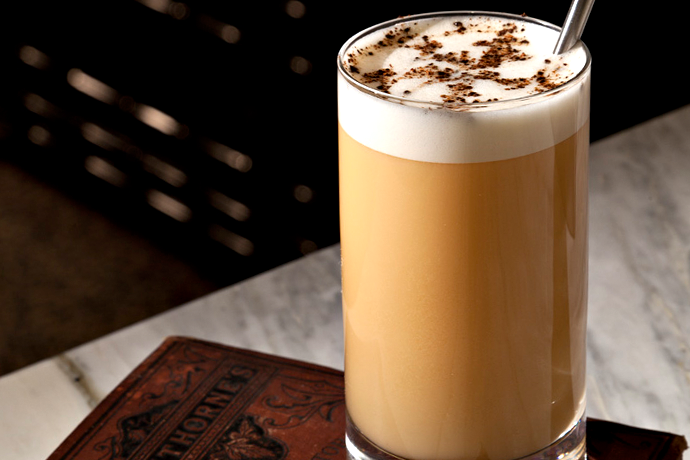 If there's one thing winter's good for, it's snowball fights.

But if there are two things winter's good for, it's snowball fights and scotch cocktails with whole eggs inside of them.

For a drink addressing the latter, look to the Monkey Business, a cocktail developed by legendary bartender Jackson Cannon at the Hawthorne in Boston.

It's composed of Monkey Shoulder blended scotch, Amaro Nonino (a grappa-based digestif chock-full of herbs and spices), vanilla gomme syrup and an entire egg. It's creamy and frothy with a vanilla hit up front, followed by the flavors of scotch and Nonino in the back.

In short, it's precisely what you want to be drinking in front of a crackling fireplace while wearing an oversize cardigan. But first you'll need the recipe:

Monkey Business

2 oz Monkey Shoulder blended scotch
3/4 oz Amaro Nonino
3/4 oz vanilla gomme syrup*
1 whole egg

Combine all ingredients in mixing glass and shake without ice. Then add ice to mixing glass and shake vigorously. Strain into a rocks glass neat and grate nutmeg on top.

*Vanilla Gomme Syrup

4 c white sugar
4 c water
2 vanilla beans, split
1/8 tsp xanthan gum

Mix first three ingredients in pot and simmer for 10 minutes on induction burner. Remove from heat and transfer to new container. Cover container and allow to steep for one hour. Strain into blender with 1/8 teaspoon xanthan gum. Place mix in new container and refrigerate. Makes 2 quarts.