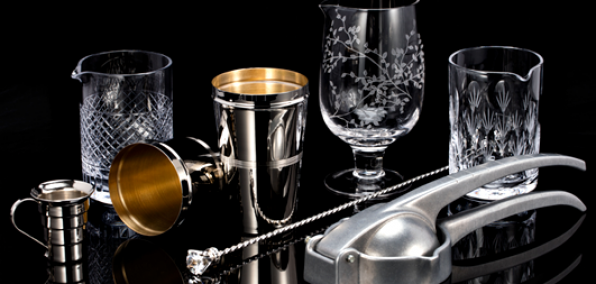 Okay, so technically you can stir your perfectly measured Manhattan in a paper cup with a tongue depressor.

But you could also use an exceedingly attractive mixing glass and a black-diamond-lined barspoon.

So...

Let's do that with Cocktail Kingdom Reserve, a just-launched collection of pleasing barware that you can employ the next time you're making drinks. Or giving gifts to someone who might make you drinks. It's all available right now or becoming available shortly.

Below, a few examples of what you're working with:

—A nickel-and-silver-plated jigger with a little handle. It's based on a 1930s design, which is something you can bring up in conversation whilst measuring whiskey.

—A Japanese-inspired stemmed mixing glass with a floral etched pattern.

—That barspoon we mentioned above. Just to reiterate, it's solid silver, lined with black diamonds and topped with a Swarovski crystal. And it's $2,750, so, you know, maybe just get one.

—A limited-edition, leather-bound and David Wondrich–signed tome of that Jerry Thomas classic, How to Mix Drinks: A Bon Vivant's Companion.

As you can see, it's not a bad assortment of bar stuff.