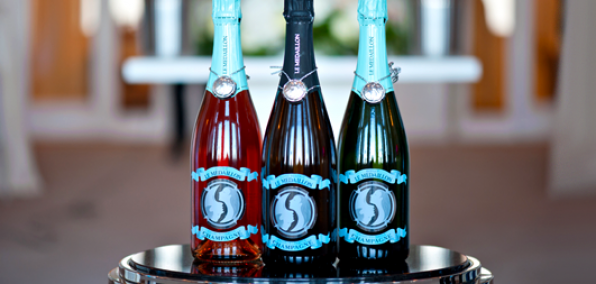 Let's do a little word association.

We say "champagne," and you say...

The word we were looking for is "Chicago."

Come to think of it, that wasn't a very fair game.

But since we brought it up, a Chicago-based company has three new champagnes (a brut, a rosé and a cuvée reserve) for you, each under the Le Medaillon name. They're produced in Celles-sur-Ource, which is a super-French-sounding part of France. And they're grower champagnes, which means that each wine is grown and bottled by a single estate and only uses said estate's vines.

So that's all good to know. But most importantly, here's what you'll be drinking.

Brut: A blend of 70% pinot noir and 30% chardonnay, this guy is aged for 30 months in stainless steel tanks and sports aromas of fresh cream and white flowers.

Rosé: Made entirely from pinot noir grapes and again aged for 30 months, the rosé is a delicate creature full of red fruits.

Cuvée Reserve: Here you've got a trifecta of 80% pinot blanc (an increasingly rare champagne grape), 10% pinot noir and 10% pinot meunier. And this one's limited to just 12,500 bottles each season.

Which sounds like just the right amount for your New Year's Eve party.

Give or take 12,490 bottles.