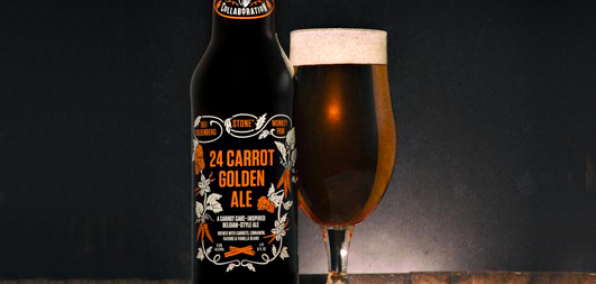 In the realm of things that you consume, there are foods, and there are drinks.

But sometimes these lines blur.

Take fruit smoothies, for instance. Or, like, we don't know... some kind of crazy carrot cake beer.

Ha.

But seriously, crazy carrot cake beer. It exists.

The proof: 24 Carrot Golden Ale from Stone Brewing Co. It's a new collaboration beer from Stone, Monkey Paw Brewing Company and a homebrewer named Juli Goldenberg. It's available nationwide right now, which makes it easy to appease your curiosity.

The beer itself is an 8.5% ABV golden ale brewed with carrots, raisins, vanilla and cinnamon. As far as beers go, that's a unique combo of ingredients.

And it tastes like... well, not so much carrot cake as a beer with a few carrot-cake-like qualities. That's probably a good thing. It smells a bit like cream cheese frosting with hints of carrots and raisins. And it tastes like a yeasty Belgian beer with hints of cinnamon.

Somehow, it all works. You're drinking a carrot-raisin-spice beer, but a carrot-raisin-spice beer that still tastes like beer. Which means that bringing a couple 22-ounce bottles to Thanksgiving is a sensible yet festive thing to do.

That's assuming you haven't already acquired some sort of pumpkin pie chardonnay.